EA has rolled out Madden 22 update 2.10, which is an unannounced title update, so don't expect much from it. Check out what's new in the Madden 22 July 21 patch notes below.
Madden 22 Update 2.10 Patch Notes | Madden 22 July 21 Patch Notes:
So far, EA has yet to issue any official announcements regarding today's title update. Given that Madden 23 is on the way, and is EA's focus right now, don't expect anything major from today's patch.
On the PS4's update history, it mentions that the latest Madden 22 patch brings:
Stability and Quality improvements
Mind, this is the same term EA uses for every Madden 22 patch, so this is not reflective of what actually got changed.
Over on the EA Answers Madden 22 bug report page, one bug that's confirmed being looked into by the devs is a Madden Ultiamte Team Rookie Premiere Tokens issue. Here's the report from a user from a month ago, and an EA rep's response:

And here's EA's repsonse from last week regarding the issue: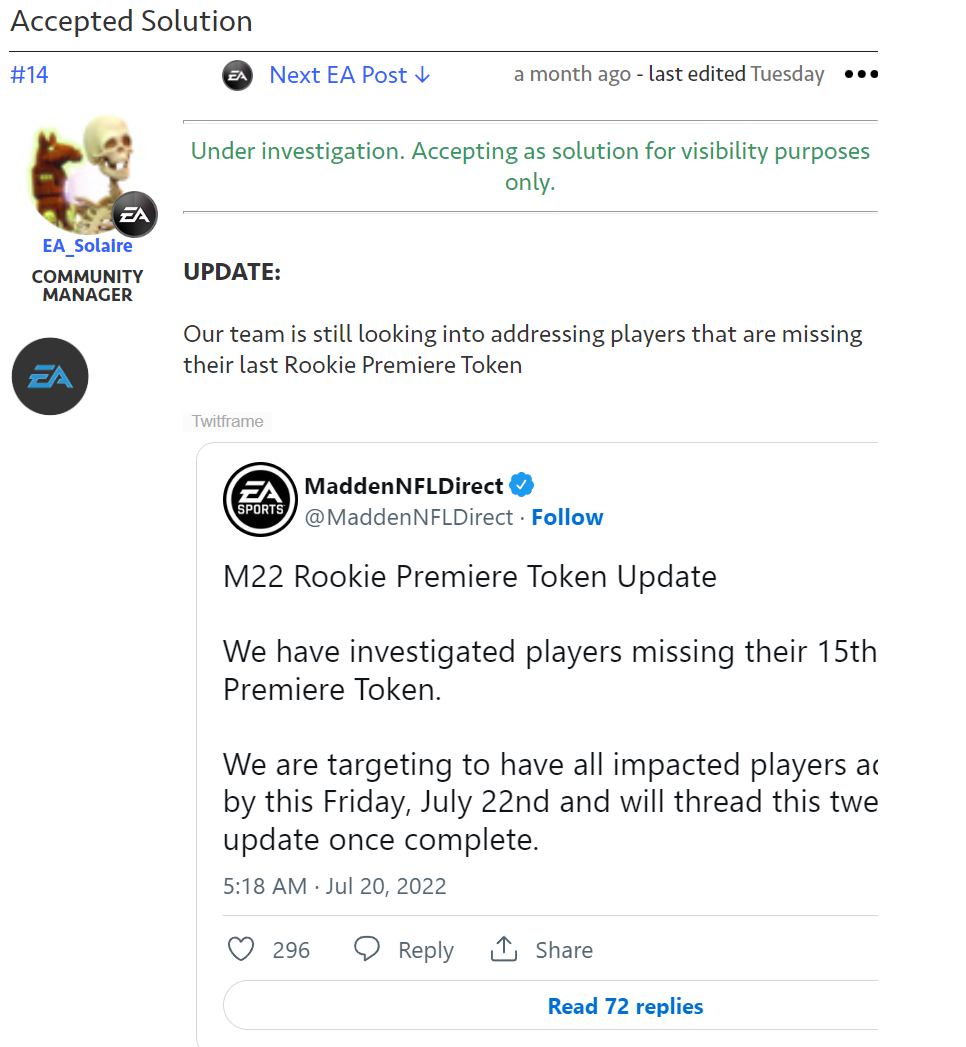 M22 Rookie Premiere Token Update

We have investigated players missing their 15th Rookie Premiere Token.

We are targeting to have all impacted players addressed by this Friday, July 22nd and will thread this tweet with an update once complete.

— MaddenNFLDirect (@MaddenNFLDirect) July 19, 2022
One bug that might be fixed is the Madden 23 pre-order link in Madden 22's main menu not showing up properly. Based on Madden players, this bug is happening to Xbox and PlayStation platforms.
Here are two reports from two different users via the EA Answers forums:
For Xbox:

The Pre-order link for Madden 23 that grants a 10% discount is simply not there for me (nor has it been since it came out) all it says in the panel where it supposed to be is "Positive Play". The Madden 23 pre-order link that is on the main menu for everyone else simply does not show up for my account for whatever reason.
As for Madden 23, it's out this August 19, and you can check out the new gameplay features for this year's iteration,
right here
.