Those looking forward to getting NBA 2K21 on current-gen but also thinking of jumping to next-gen, you don't have anything to worry about when it comes to NBA 2K21 MyTeam! Visual Concepts has confirmed that the NBA 2K21 MyTeam progression and data will carry over from current-gen to next-gen!
Aside from as new trailer, we also get a ton of new details regarding MyTeam's new prizing program for seasons, and some of the new features coming to players this year.
Note that players will only be able to carry over progress from the same console family (ie. PS4 to PS5, Xbox One to Xbox Series X). Players can even go back and forth playing the current-gen and next-gen version at will and not lose progress.
In the same announcement, Visual Concepts announced the Seasons concept into MyTeam, and it'll be free for everyone. Here's an overview of what it is straight from Visual Concepts:
I have two key tenets to the MyTEAM Season design for 2K21: 1) New prizing updates across most modes every Season, and 2) Add something NEW to the mode every Season. I'm going to be intentionally vague here so as not to spoil any plans, so please bear with me. Some Seasons will add new content for you to play (think something like Spotlight Sims), while other Seasons may add new features to the game, or add a reward twist that you will be chasing all Season. The main point is, I really want each passing Season to feel fresh. I want the start of a new Season to create a buzz in the MyTEAM community that we can all rally behind and be excited about.
During the Season, players will be able to complete Daily, Weekly and Seasonal-based Agendas. Once objectives are completed, players will earn XP that will be used to raise your Season Level. Every time you level up, you will earn a reward. Reaching the final level within a Season earns you the grand prize for that particular Season. Visual Concept notes that they will make the long grind worth it. In fact, the first przie for Season 1 has already been revealed, and it's a Pink Diamond Steph Curry!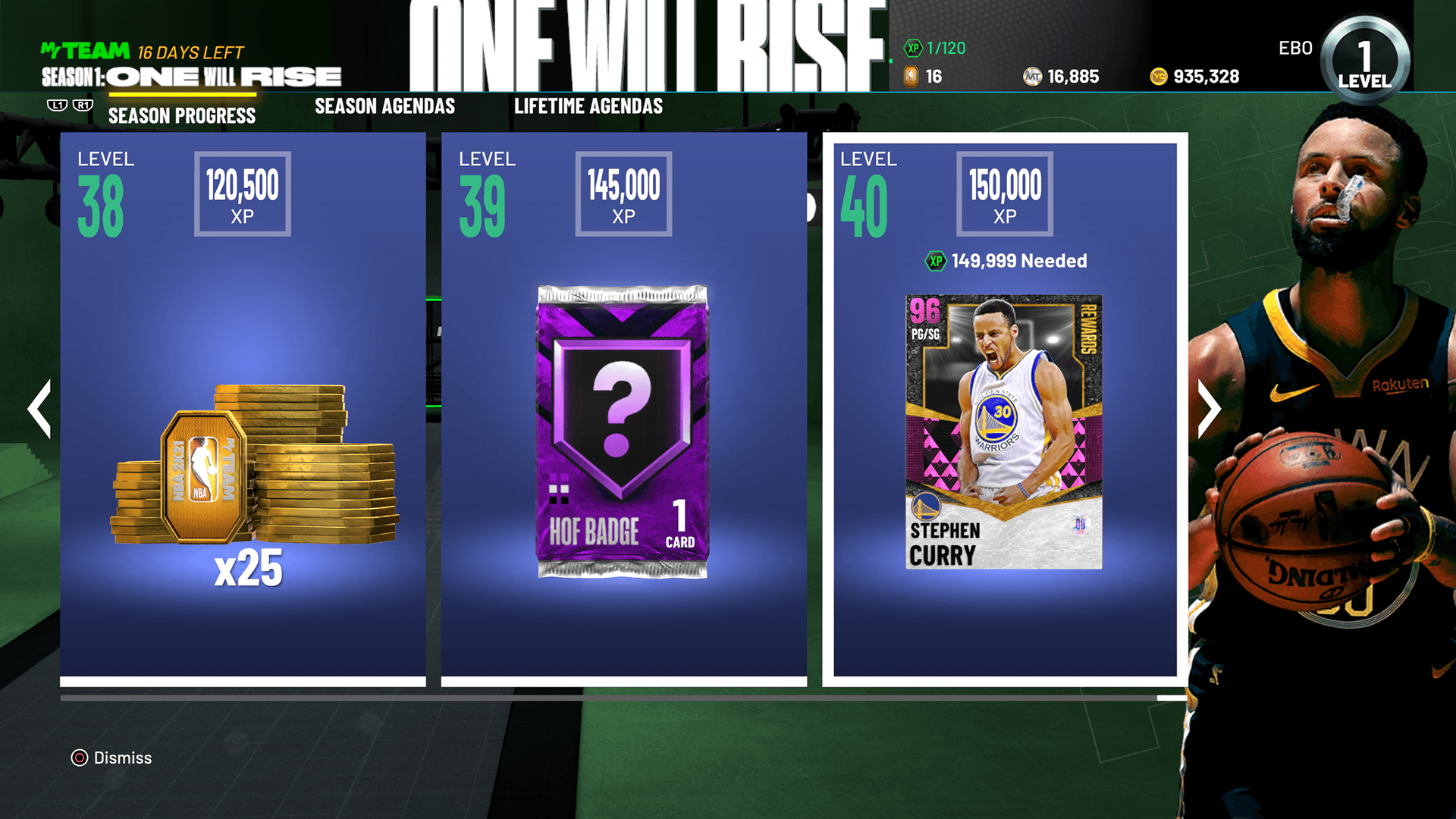 Brand new for NBA 2K21, Seasons will bring new content and new ways to play MyTEAM all year long! Earn the Season 1 grand prize, Pink Diamond Steph Curry, by simply completing Seasonal Agendas!

Going back to tenet #1 above, let's talk in more detail about the Seasonal prizing updates and what they will look like around MyTEAM:
New 'Vault' prizes updated every Season in Triple Threat. We'll actually update them during the Season as well, just to keep the mode as fresh as possible.

New 'Cumulative Win' prizes added every Season in Triple Threat. If you played Triple Threat in 2K20, your interest is probably piqued right now. Let's talk about how single player Triple Threat is going to work in 2K21, and why what we are doing this year is better. When NBA 2K21 launches, there are going to be 300 wins available for you on the win 'ladder.' When you get to that 300th win in Season 1, you will no longer accrue additional wins to your tally, but you CAN continue chasing those ever-changing vault prizes! But hey, at 300 wins, you will have the guaranteed Season 1 prize in Triple Threat. It's a Diamond card, and it's a darn good one.
In subsequent Seasons, we will add new 'Wins' available for you to play. As an example, this means you might be able to go to something like 450 Wins in Season 2. In this example, those new 150 'Wins' will have prizing with the 450th win being the Season 2 Triple Threat prize. Now, why is this better than NBA 2K20? Easy; NBA2K20 launched with 1,000 Wins available to you, and a Galaxy Opal waiting at the end. The problem was, that card became outclassed pretty quickly as MyTEAM evolved. It effectively made Triple Threat less valuable as the year went on. Personally, I love Triple Threat and want it to remain a staple for everyone all year long. As we add new 'Wins' available to you with each passing season, this enables us the opportunity to provide rewards that fit the current Season within MyTEAM. To summarize this, it basically means we can give you better prizes that will match the time and effort you have invested to get there. Everyone wins!
New 'Boards' updates added every Season in Triple Threat Online. The ball drop is back, and I'll tell you this, the ball drops faster this year! We like to add in cool prizes into Triple Threat Online from time-to-time. In NBA 2K20, it was not always obvious what those prizes were and it required a lot of word-of-mouth around the community. In NBA 2K21, we have added a screen when you first enter Triple Threat Online that will highlight the best prizes available in each tier of the boards. Easy solution to remind you what you are playing for!

New Season prize offered every Season in MyTEAM Limited. No, that's not a typo; it's called MyTEAM Limited. More on this one below!

New Prizing Updates added every Season in MyTEAM Unlimited 2.0. Yes, Unlimited has undergone a much-needed facelift. More on this one below, as well!

New 'Combinations' added every season in The Exchange. More new features! Stay tuned, you probably guessed it, more details below!

New this year is Dynamic Domination Seasonal Updates. For the first time, we are going to be adding entirely NEW tiers to Domination after we ship the game this year. These won't be an every Season thing, but we will definitely be adding a few new tiers over the course of NBA 2K21's lifetime. When we add new tiers, I promise we will make playing them worth your while. In an ever-increasing dynamic MyTEAM mode, Domination is about to have some late-year relevance for the first time!

New cards added every Season to the Reward Market. We have been adding cards to the Reward Market for two years now. Seasons provides us (and you) with the opportunity to standardize when new content is released in this feature!
There's also a new MyTeam Limited game mode available in NBA 2K21, there's also The Exchange where players can exchange cards they're no longer using for others and more.
I suggest reading the entire thing here, to know more about what's coming to NBA 2K21's MyTeam.
Don't forget, the NBA 2K21 current-gen demo will dribble its way out! Details on that and some of the game's new features are detailed here.