In case you didn't know, The Lord of the Rings: Gollum was just released a few days ago, and it was not a game we'd recommend to anyone. Unfortunately for developer Daedalic Entertainment, this is the same sentiment shared by most people who played it, and the studio is aware of the game's shortcomings and have sent out an apology.
Over on the game's official Twitter, Daedalic announced that they sorry for the game's "underwhelming experience" and promised that fixes are incoming.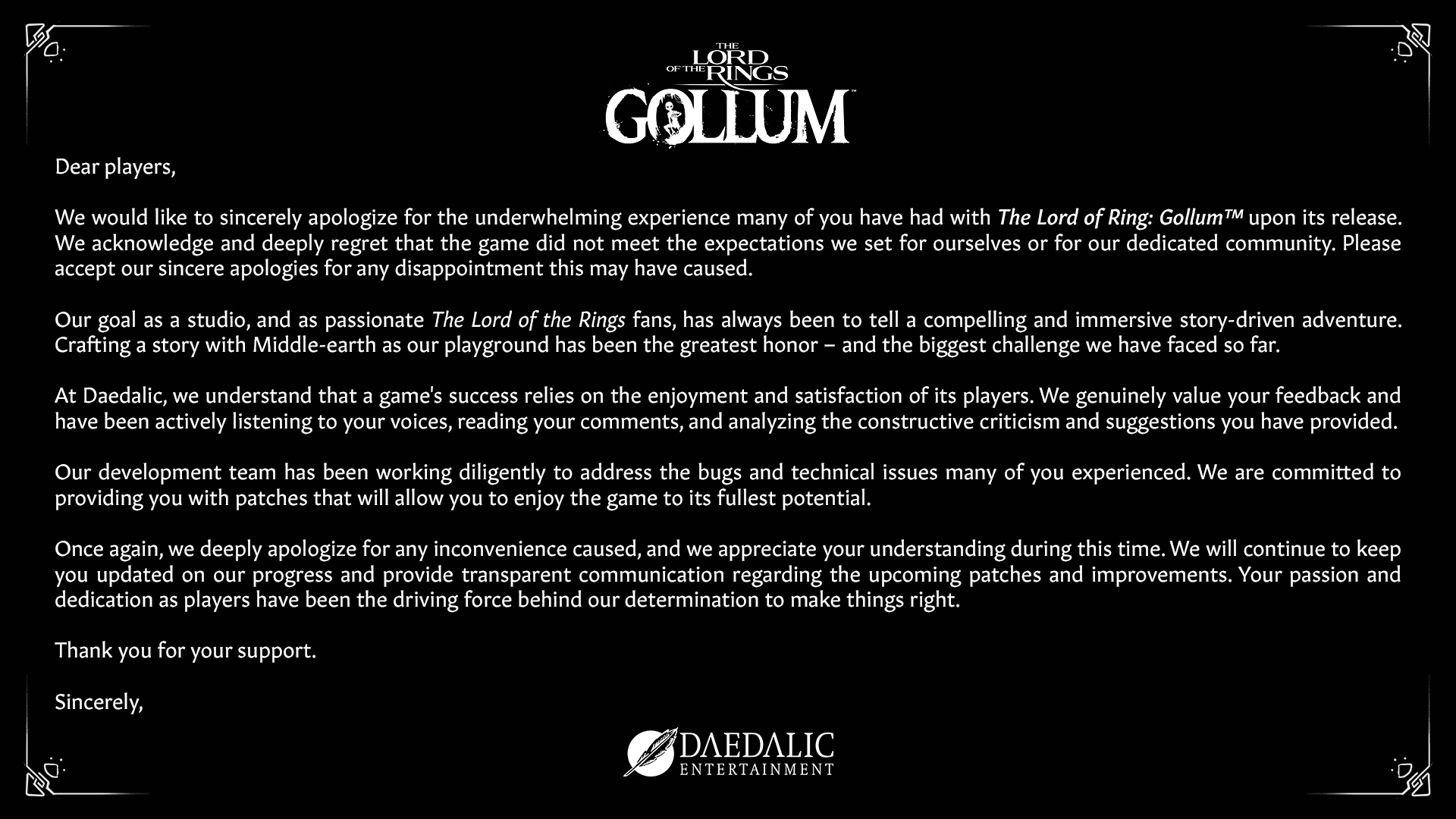 ---
Dear players,
We would like to sincerely apologize for the underwhelming experience many of you have had with The Lord of Ring: GollumTM upon its release. We acknowledge and deeply regret that the game did not meet the expectations we set for ourselves or for our dedicated community. Please accept our sincere apologies for any disappointment this may have caused.
Our goal as a studio, and as passionate The Lord of the Rings fans, has always been to tell a compelling and immersive story-driven adventure. Crafting a story with Middle-earth as our playground has been the greatest honor – and the biggest challenge we have faced so far.
–
At Daedalic, we understand that a game's success relies on the enjoyment and satisfaction of its players. We genuinely value your feedback and have been actively listening to your voices, reading your comments, and analyzing the constructive criticism and suggestions you have provided.
Our development team has been working diligently to address the bugs and technical issues many of you experienced. We are committed to providing you with patches that will allow you to enjoy the game to its fullest potential.
Once again, we deeply apologize for any inconvenience caused, and we appreciate your understanding during this time. We will continue to keep you updated on our progress and provide transparent communication regarding the upcoming patches and improvements. Your passion and dedication as players have been the driving force behind our determination to make things right.
Thank you for your support.
Sincerely,
DAEDALIC
ENTERTAINMENT
---
Once one of these patches are released, we'll be sure to let our readers know. Being honest, even if we get a dozen patches, the game's problems are its core gameplay mechanics, and it would take a small miracle to change the game that much via patches, but we're hoping Daedalic can do it in some way.
If you haven't checked the game out, go read our review here where we state, "it's more of a game going through the motions without ever finding its footing in the process. It has some cool ideas and attempts to execute them, but they never once felt realized throughout the journey."