Delayed by a day, the Valentine's event in Apex Legends is live now. Players should get a prompt to download Apex Legends update 1.29, and as one might expect, there's really no gameplay-specific changes (at least revealed), but there are new items to acquire.
Apex Legends update 1.29 patch notes:
What's in the Valentine's Day Rendezvous (via EA):
Log-in to collect your Valentines 2020 Badge
Duos returns for a limited time
"Double Up" XP Boost

Squad up with a buddy and earn double XP (up to 20k per day)

New and Returning Valentine's items

2 new Pathfinder and Nessie gun charms
Return of last year's "Through the Heart" DMR Longbow and "Love of the Game" Banner frame at discount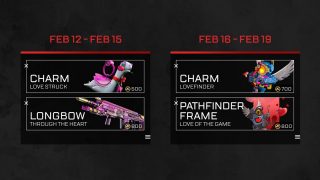 In case you didn't see it, the big Apex Legends Season 4 patch dropped last week and that one brought in a host of gameplay changes, new legend and more. Read up on that here.
If you spot any changes in this Apex Legends update, let us know what they are in the comments below. We'll be on the lookout for any changes that arent' documented (or documented) and will update the post if necessary.
Now go out there and show your love by killing off some legends!