With today's announcement by DICE that Battlefield 2042 will be getting Update 4.1 tomorrow (here are the patch notes), buried within is the confirmation that Battlefield 2042 Season 1 will launch in "early June!" In addition to that, the studio also confirmed that 128-player Breakthrough is also getting trimmed when it comes to player count.
In the patch notes, DICE mentions that BF2042 Season 1 is the next title update scheduled for the game, and it'll be out in early June.

Up next in our update schedule is the release of Season 1, currently set for release in early June. We'll be back with a full overview and Update Notes closer to its release.
While there's no specific date given out, at least players know we should expect in in the first two weeks of June (if things go according to plan).
Further down the patch notes where DICE explains the changes to modes, the studio mentioned that after reviewing Breakthrough, the mode's 128-player count will be reduced to 64 players in total (32 on each side), which represented a "more tactical experience" per the studio. Note that for console gamers, 128-player matches are exclusive to the next-gen versions, so those should be the only ones affected (outside of PC gamers, of course).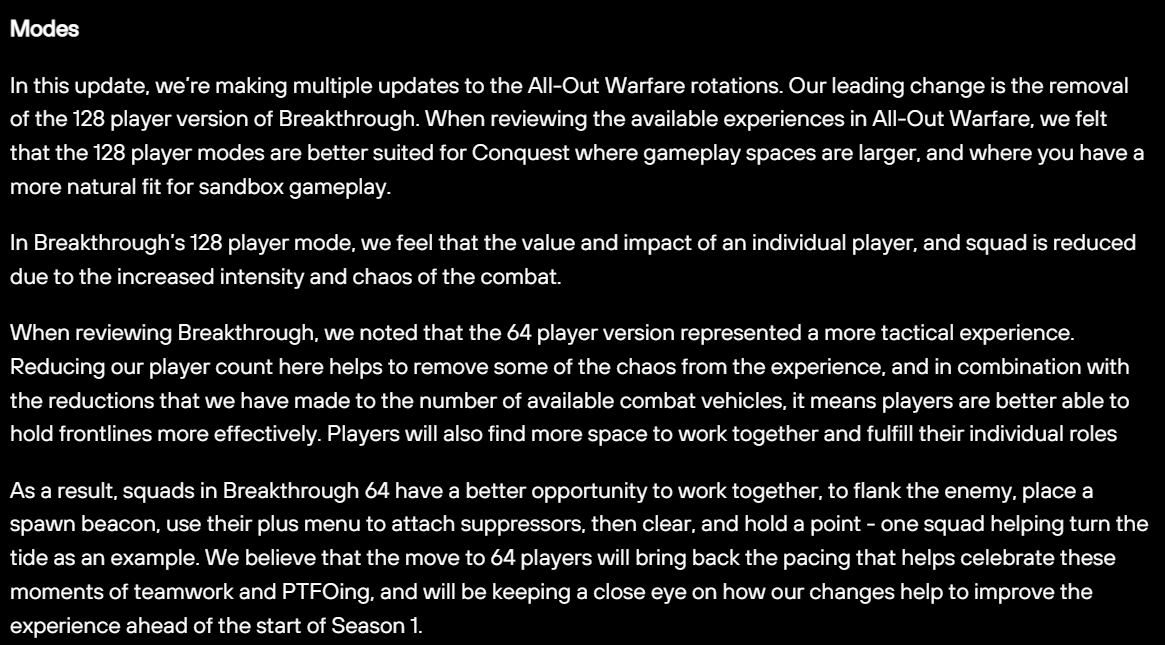 In Breakthrough's 128 player mode, we feel that the value and impact of an individual player, and squad is reduced due to the increased intensity and chaos of the combat.

When reviewing Breakthrough, we noted that the 64 player version represented a more tactical experience. Reducing our player count here helps to remove some of the chaos from the experience, and in combination with the reductions that we have made to the number of available combat vehicles, it means players are better able to hold frontlines more effectively. Players will also find more space to work together and fulfill their individual roles

As a result, squads in Breakthrough 64 have a better opportunity to work together, to flank the enemy, place a spawn beacon, use their plus menu to attach suppressors, then clear, and hold a point – one squad helping turn the tide as an example. We believe that the move to 64 players will bring back the pacing that helps celebrate these moments of teamwork and PTFOing, and will be keeping a close eye on how our changes help to improve the experience ahead of the start of Season 1.
Note that it's just Breakthrough that's getting the player count change, as All-Out Warfare Conquest will still feature 128-player matches.
Given how chaotic Breakthrough is, I gather, this should be a welcome change to most BF2042 players, no? What are you hoping to see in Season 1? Let us know your thoughts on this, and the reduced player count in Breakthrough down in the comments.
Source: EA