With Season 5 of Black Ops Cold War and Call of Duty Warzone hitting tomorrow, this means that we'll be seeing a new Battle Pass as well! If you're curious what's going to be in the Black Ops Cold War & Warzone Season 5 Battle Pass, then let this trailer and overview satisfy your curiosity!
Black Ops Cold War & Warzone Season 5 Battle Pass Trailer and Overview:
New Free Base Weapons
Stock up on weapons when a new assault rifle and SMG arrive, free to earn via the Battle Pass system.

EM2: Assault Rifle (Tier 15)
The British EM2 full-auto assault rifle adds another hard-hitting bullpup option to a category already overflowing with versatility.
In traditional Multiplayer environments, the EM2 demands your attention to keep its improved accuracy true to its word. With an optional Task Force Barrel, it can become a reliable three-shot elimination at ranges up to at least 50 meters; otherwise, a headshot needs to be mixed in for a faster down.
Don't let the weapon's slow fire rate deter you. With a built-in low-optic zoom, it is a force at range, calling upon marksmen to use it and defend their allies with all their might.

TEC-9: SMG (Tier 31)
The semi-auto TEC-9 is one of the most unique SMG options yet in Black Ops Cold War, given that its action mechanism is the first of its category across all games.
On its own, the TEC-9 can eliminate targets in three shots anywhere within 10 meters. Its blowback nature allows Operators to place their shots more accurately, differing dramatically from a category filled with more traditional spray-and-pray options.
But it doesn't have to be semi-auto — Operators can outfit it with one of two unique attachments that change its fire type to either three-round burst or fully automatic. These attachments also come with built-in position concealment, making it great for stealthy infiltrations. And for the fully auto modifier specifically, it makes this SMG more viable when considering hip-fire rushing tactics.
Both options increase fire rate, but in exchange, Operators must exercise more recoil control with those faster follow-up shots. The choice is yours.
Tier 0 — Instantly Unlock Kitsune, 10% Seasonal XP Boost, and More…
Tier 0 rewards are immediately unlocked when you purchase the Season Five Battle Pass, starting with Kitsune, the self-taught cybersecurity expert joining Perseus's forces, plus a new Operator Skin for Garcia, a Watch, and a 10% XP boost for the entire season.
New Operator — Kitsune: The daughter of Kobe's most feared Yakuza boss, Kitsune earned respect on her own, becoming a savant in cybersecurity systems and a phenomenal mercenary. Unlock Kitsune — and her default Operator Skin — instantly at Tier 0.
Kitsune also comes with two Operator Missions that can be completed to unlock new customization content. Other tiers of the Battle Pass, such as Tier 20 with Hunter's "Visionary" Skin, have Operator Missions for Multiplayer and for Zombies, which double up on new content you can earn by completing objectives.
Complete Kitsune's "Security Expert" Operator Mission in Multiplayer to unlock her "Fiber Optic" and "Sunset" Operator Skins among other rewards, or the "Dimensional Anomaly" Operator Mission in Zombies to earn an additional four items, including Kitsune's "Critical" and "Fragment" Operator Skins.

Garcia Operator Skin and Mission: The ruthless Garcia prepares to lead the next revolution. At Tier 0, get his Epic "Rebel Leader" Operator Skin along with extra rewards for completing his Operator Mission, including two additional Operator Skins — "Ranchero" and "Vaquero."
Crimson Oni Watch: Call upon the power of the oni and keep your eye on the time while you're at it using the Epic "Crimson Oni" Watch.
Seasonal XP Boost: Purchase the Season Five Battle Pass and enjoy a 10% increase in all XP earned during the season.

LIMITED TIME OFFER — Get the "Kyubi" Kitsune Skin with the Battle Pass Bundle During Season Five Launch Window
Those who want to get the job done right in Double Agent, other Black Ops Cold War Multiplayer modes and Zombies, or within Warzone will want to consider picking up the Battle Pass early.
For the first time in Call of Duty®, those who purchase the Battle Pass Bundle before August 31 will receive a bonus Legendary Operator Skin for Kitsune — "Kyubi." A fitting gear set for an Operator whose namesake translates to "fox," this exclusive Operator Skin combines a traditional festival mask with classy-yet-tactical attire complete with a black tie and cape.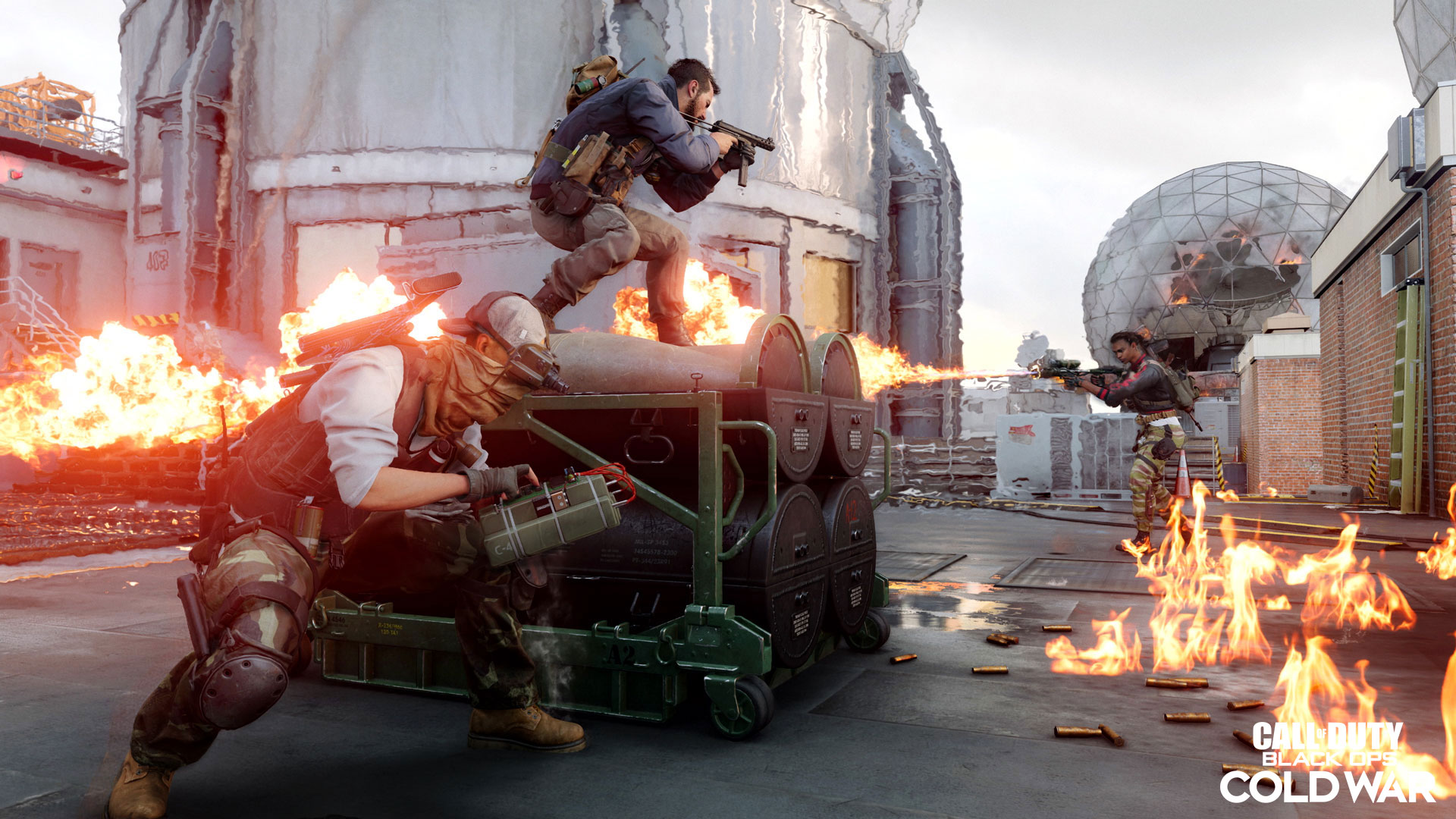 New Operator Skins and Finishing Move
It's more than just Kitsune and Garcia who are gearing up for the battle ahead. The Season Five Battle Pass introduces a wide collection of new Operator Skins, including one for Baker that's perfect for oceanic operations.

"Payback" Woods Skin (Tier 10): When business starts to get personal, Woods is ready to get even, gearing up for the fight with his "Payback" Operator Skin. Complete his Operator Mission to earn his "Resilience" and "Vigilance" Operator Skins, as well as an Epic Calling Card and Emblem.

"Scuba Diver" Baker Skin (Tier 50): Hit the high seas and board enemy craft with Baker's "Scuba Diver" Operator Skin, outfitting him in full tactical scuba gear. Complete his Operator Mission to earn the "Sand Dab" and "Underwater" Operator Skins.
PLUS, the "Mind Games" Finishing Move (Tier 19): Knock your enemies off their feet, then finish the job with this combat reversal, which can be equipped by all Operators through the Operator menu in Warzone or through the Weapons menu in Black Ops Cold War.
Which weapons will these Operators wield in combat this season? In addition to the 100+ existing armaments in Warzone, two more are being added to the table, and both are available via the Battle Pass for free:
New Weapon Blueprints
A total of 20 custom Weapon Blueprints, including over a dozen Legendary weapons and an Ultra-rarity version of the new assault rifle, are available to you in the Season Five Battle Pass. Here are some of the highlights:

"Great Emperor" Assault Rifle Blueprint (Tier 5): Deploy in royal fashion with this gold and blue Legendary Weapon Blueprint fit for the most ruthless, stylish Operators. This beauty shoots with excellent precision, too, using the Agency Suppressor for a huge boost to vertical recoil control and the Field Agent Grip for added horizontal control. The Raider Stock helps you snap onto targets, and that's just three of its five attachments.

"Red Torpedo" Assault Rifle Blueprint (FREE Tier 55): Launch your next amphibious assault using this aquatic Legendary Weapon Blueprint. It's not just about its incredible design, either. The "Red Torpedo" is fast and versatile; its five attachments include the Raider Stock, which boosts your movement speed while aiming, as well as the Airborne Elastic Wrap for rapid Aim Down Sights (ADS) speed.

"Death Angel" Tactical Rifle Blueprint (Tier 85): Bring death on wings with the new "Death Angel" Legendary Weapon Blueprint. If you're look for fast handling, this is it. First, the SOCOM Eliminator reduces muzzle flash for easier targeting in combat, and the invaluable Salvo 35 Rnd Fast Mag provides a vast pool of ammo and lightning-fast reloads. And with the Raider Stock, you can move around sights-up so you're prepared for whatever lies ahead.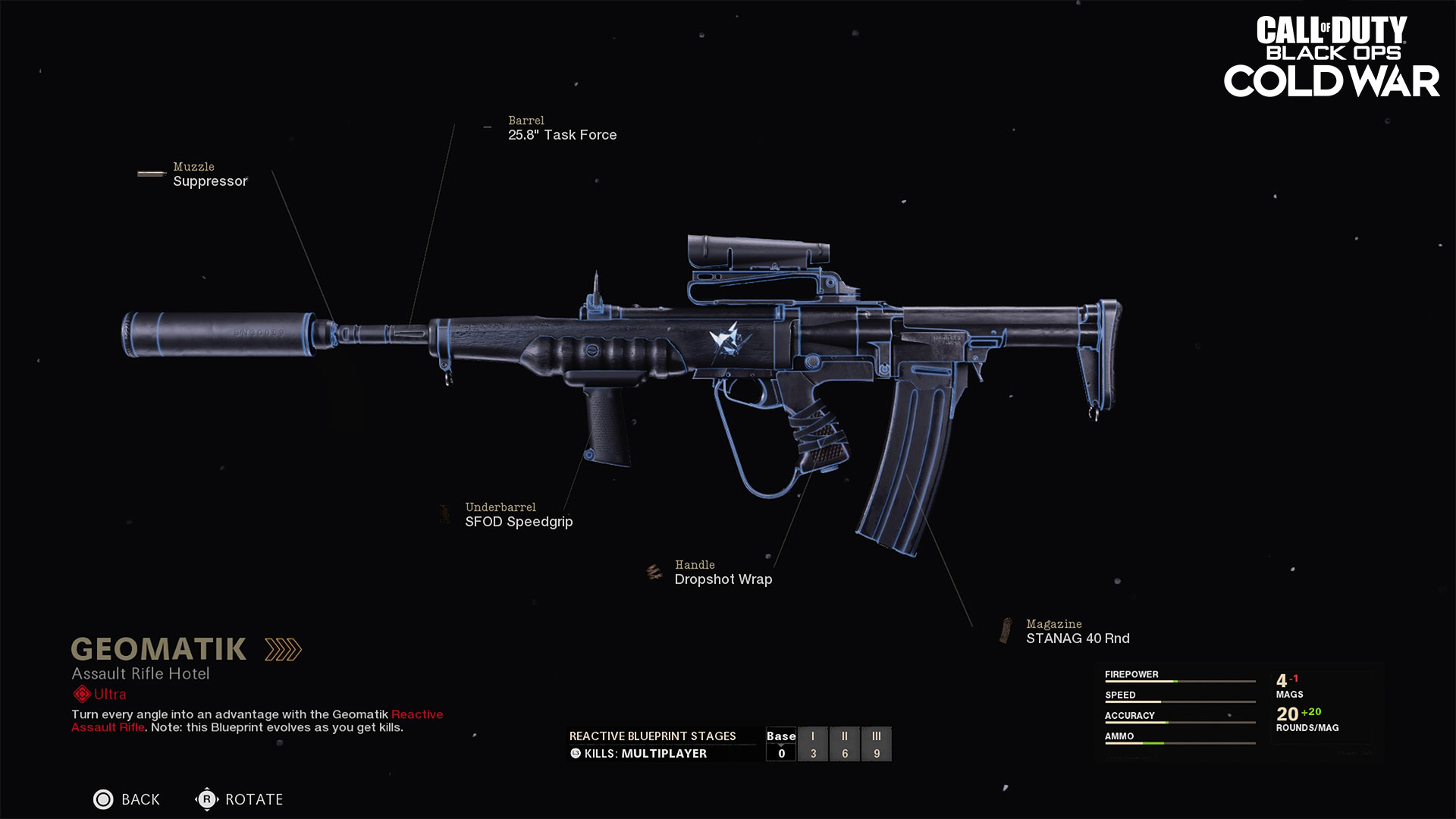 Tier 95 — Edge Out the Competition with "Geomatik," An Ultra-rarity Reactive Weapon Blueprint
Get all the way to Tier 95 in Black Ops Cold War and Warzone to unlock the lethal "Geomatik" Ultra-rarity Assault Rifle Weapon Blueprint, based on the new functional weapon unlocked earlier in the Battle Pass.
Turn every angle to your advantage with this high-damage, low-profile configuration stocked full of ammo. An SFOD Speedgrip will help control horizontal recoil, but it's up to you to keep this weapon's shots — fully suppressed, thanks to a Suppressor Muzzle — from kicking too much.
Watch for this weapon's sci-fi-inspired animated Reactive property — the "Geomatik" glows with increasing geometric power as you earn kills in Multiplayer, Warzone, or Zombies. The lines are perfect, ideal for the surgical Operator ready to dissect the competition for their side.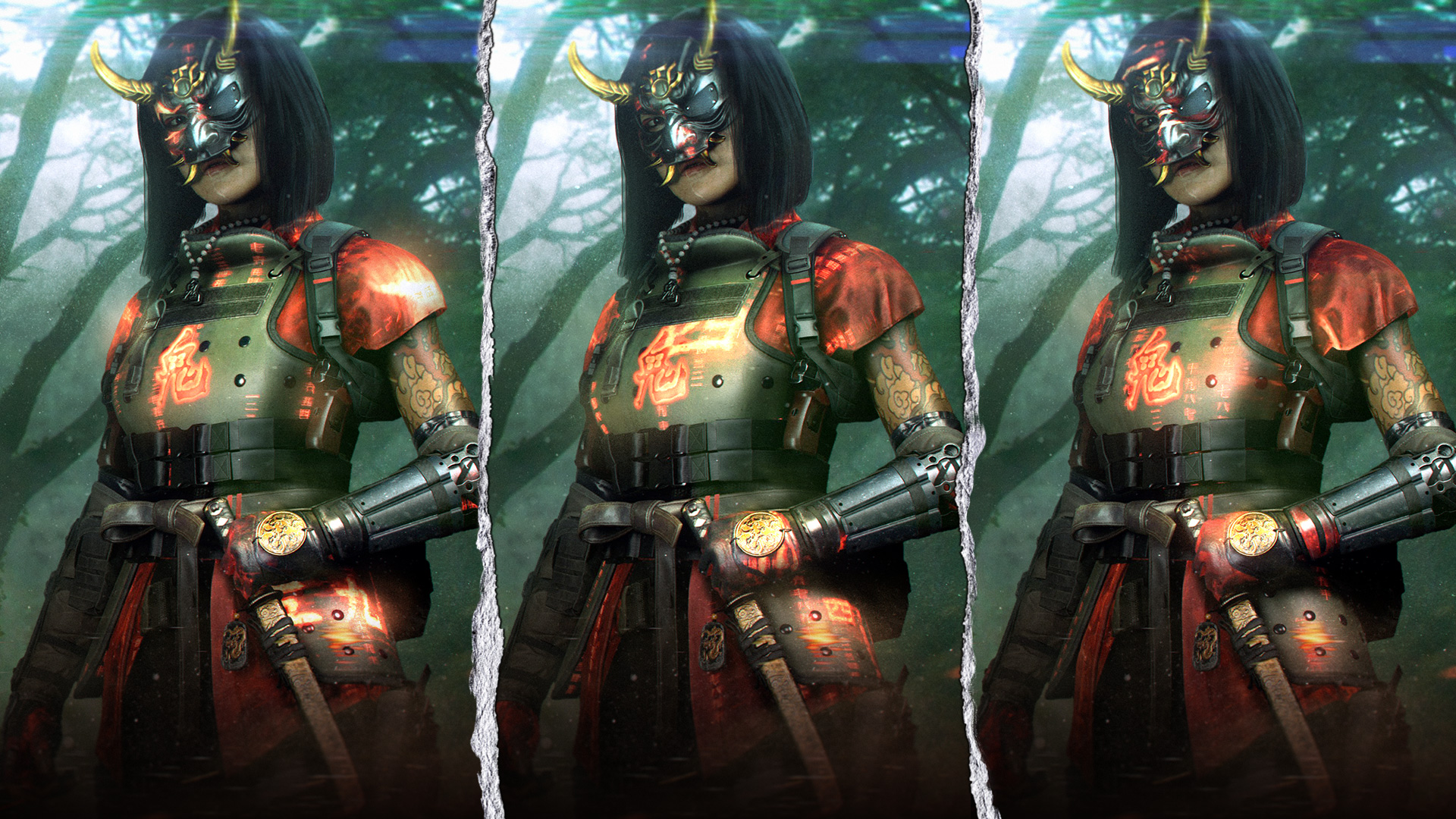 Tier 100 — Kitsune Ultra-Rarity Operator Skin and More
For the most accomplished Operators — those who complete all 100 Tiers of the Season Five Battle Pass — glory awaits. Here's to you:
"Samurai" Ultra-rarity Kitsune Skin and Operator Mission: When she really means business, Kitsune dons her "Samurai" Ultra-rarity Operator Skin, blending the old and the new with light patterns flashing over her armor and face mask. Complete the included Operator Mission to unlock the "Warlock" and incredibly auric "Goldleaf" Operator Skins in addition to extra cosmetic items.
"Microchip" Legendary SMG Blueprint: This tech-savvy Blueprint Weapon is the first available for the new SMG found for free earlier in the Battle Pass. With attachments like the Ember Sighting Point for improved reveal distance and hip-fire accuracy, and the 6.7" Ranger for a 100% increase to bullet velocity, you'll be turning armies of 1's into 0's.
FAV, Tac Rover Vehicle Skins, and Season Five Emblem: Close out the Battle Pass in style with the "Spoiled Envy" FAV Vehicle Skin in Black Ops Cold War, the "Carbon Envy" Tac Rover Vehicle Skin in Warzone, and the Season Five animated Emblem, showcasing your well-earned accomplishment of unlocking all 100 Tiers of content.
For the bundles set to become avalable, as well as the War Tracks and other stuff,
head on over here. 
Speaking of Season 5, we are giving away COD Points on all three platforms! Check it out on our Twitter!
Source: Call of Duty