It's Friday, guardians! And that means the hooded one is back to get some of your Strange Coins! MP1st is here once again for the Destiny 2 Xur location today October 16, 2020 post, and same as before, we have his entire inventory listed as well. Head on below to see where Xur is.
Destiny 2 Xur Location Today October 16, 2020:
Xûr, Agent of the Nine
Description:
A peddler of strange curios, Xûr's motives are not his own. He bows to his distant masters, the Nine.
Location:
IO, Giant's Scar, Echo Mesa
---
Exotic Gear:
Consumables:
---
What's a Xûr?
Xûr, Agent of the Nine, is a strange vendor who randomly appears in a Public Sector on one of the Worlds. Xûr sells Exotic equipment and only takes Legendary Shards in exchange for them.
TL;DR: He's the Santa Claus of Destiny and every weekend is Christmas. Sometimes he brings you what you want, sometimes he brings you coal. Mostly it's coal.
When does Xûr visit?
Xûr visits every Friday at 17:00 UTC and departs at Weekly Reset (Tuesday 17:00 UTC). If you would like to see all the live conversions of Time Zones, please follow this link here.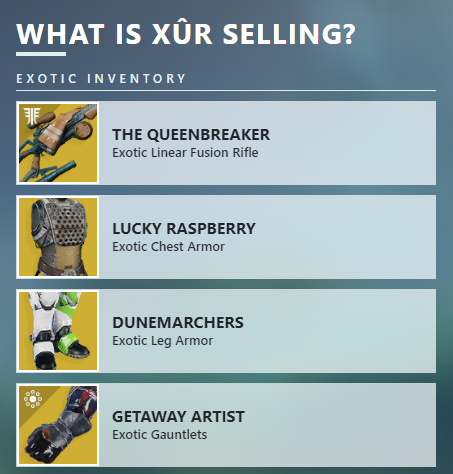 Stay tuned to our Trails of Osiris post hitting the site soon as well.