While there's no numbers yet on just how much Dying Light 2 has sold so far, it might be safe to say that the game is a success this early on — at least on PC, as Dying Light 2 concurrent players have reached a staggering 274,000! Not only that, but the game's different versions sold so well that six versions of Dying Light 2 managed to crack the Top 10 Steam best-sellers list last week!
The concurrent player data was obtained via Steam Charts, which is a reliable data tracker for Steam. Note that this is the 24-hour high now, and the game just launched a few days ago, so there is a chance this could go even higher.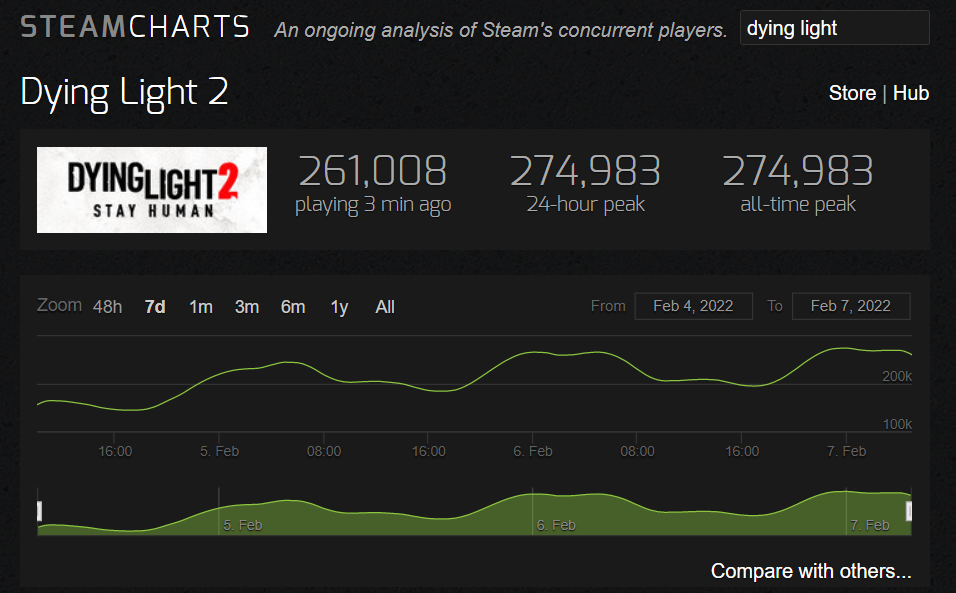 Note that this is for PC only, and odds are, the console player numbers (PS4, PS5, Xbox One, Xbox Series X|S) are much, much higher. I wouldn't be shocked if the Dying Light 2 concurrent players mark are in the million(s), even.
For comparison's sake, the original Dying Light, which was released back in 2015 (and on fewer platforms), only managed to snag an all-time high of 45,700 concurrent players.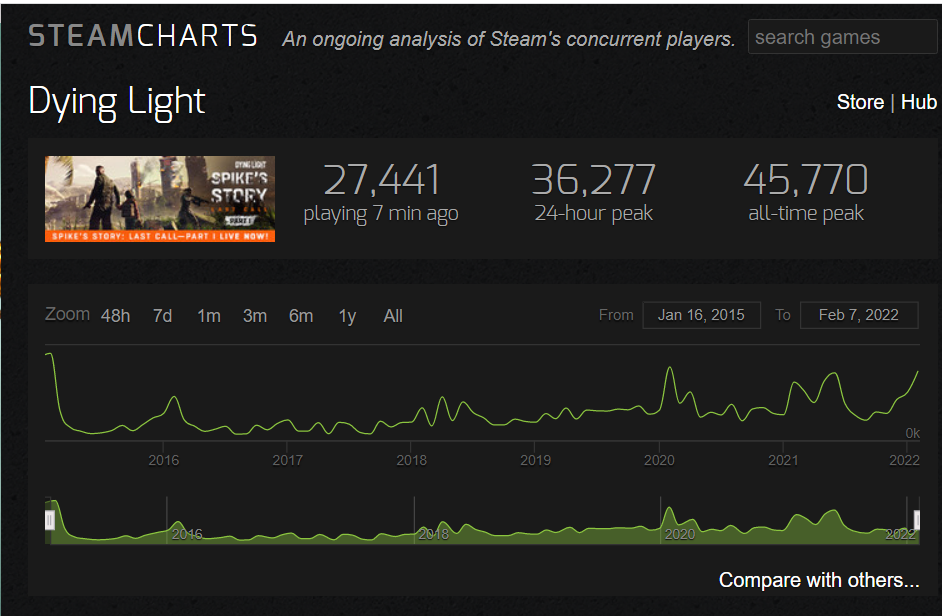 As for the sales numbers, video game industry analyst Benjie-Sales noted that the game has six entries in the Steam top 10 seller list since it has different editions. For those wondering, Steam counts each version (Regular, Deluxe and Ultimate) as one, and counts pre-orders on their own as well, which means the game sold a TON.
Basically here is what happened

Steam counts every sku separate (Regular, Deluxe, and Ultimate) they also count pre-orders as a separate sku as well

So Basically all 3 versions charted at launch AND all 3 versions pre-orders made Top 10

It sold a HUGE AMOUNT lmao

— Benji-Sales (@BenjiSales) February 6, 2022
That's quite impressive, yes? We don't know the exact numbers just yet, but chances are, we'll be hearing more about its console sales in the coming week.
It's not just hype however, as the game really is that good. If you haven't checked it out yet, our review gave it an impressive 8.5/10, and said, "If you're someone that's been on the fence, or perhaps mildly interested in Dying Light 2, I definitely think it's an experience that's worth your time, and one that stands out amongst the crowded zombie genre. If you were a fan of the original and have been eagerly anticipating Dying Light 2, it's an easy day one purchase, and one that delivers on every promise that Techland set for it."
We here at MP1st want to say a hearty congrats to Techland, and hope this continues.