It seems Rainbow Six Siege down reports have surfaced this May 14 (May 15 for those in Asia) , and is affecting all plaforms (PC, PlayStation, Xbox). Reports have surfaced from the community across different platforms, and we're here to help in terms of server status and whatot.
Rainbow Six Siege Down Status and Updates for May 14 (May 15 for those in Asia):
Update #4 (May 15, 5:25 p.m. ET): Ubisoft has announced that they have resolved the issues across multiple platforms:
UPDATE: Thank you for your patience. We've resolved the issues with connectivity across multiple platforms. Happy gaming!

— Ubisoft Support (@UbisoftSupport) May 15, 2022
Update #3 (May 15, 11:15 a.m. ET): Here's the latest update from Ubisoft regading the outages:
Thank you for your patience and understanding while our teams continue to work towards resolving this issue. We understand many of you had game time planned for this evening / weekend and apologise for any inconvenience this outage may have caused. Please continue to monitor this post for any further news or updates as soon as we are able to provide this.
We'll update the post once again if there's another update released by the company.
Update #2 (May 15, 7 a.m. ET): While there is no official announcement from Ubisoft, people from the community are saying that servers are back up!
The offiical Rainbow Six Siege server status page also lists all platforms as having "no issues."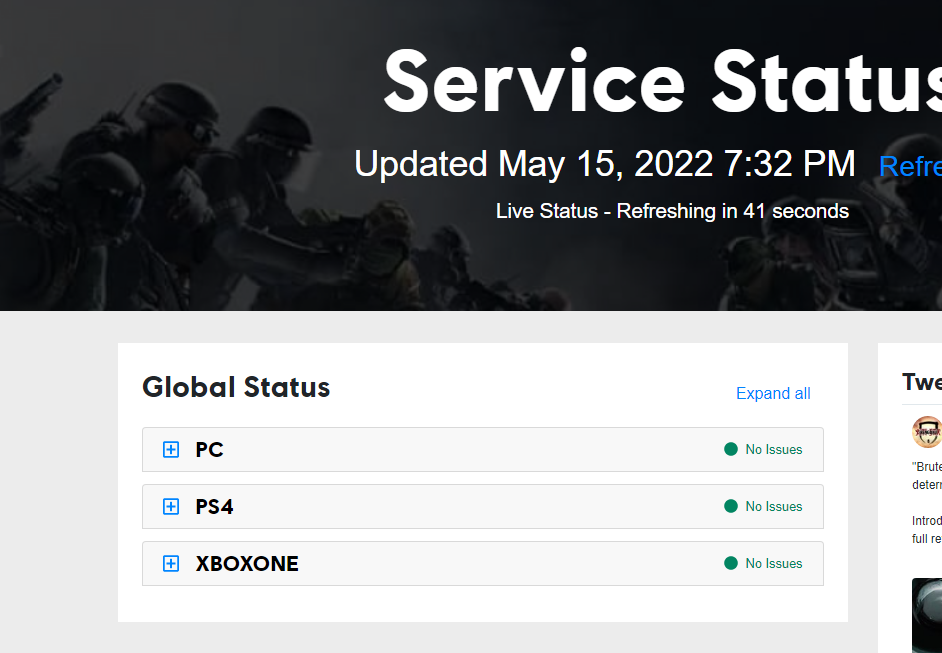 We'll be updating the post if Ubisoft announces anything official.
Update: Ubisoft has finally acknowledged the outages! Here's the announcement via the Ubisoft forums:
Hello everyone. We're aware of an issue currently affecting connectivity and are working towards resolving this. We apologize for any inconvenience caused and appreciate your patience. Please be sure to check this thread for future updates. Thanks.
The official Rainbow Six Siege server status page now says "unplanned outages" on all platforms too!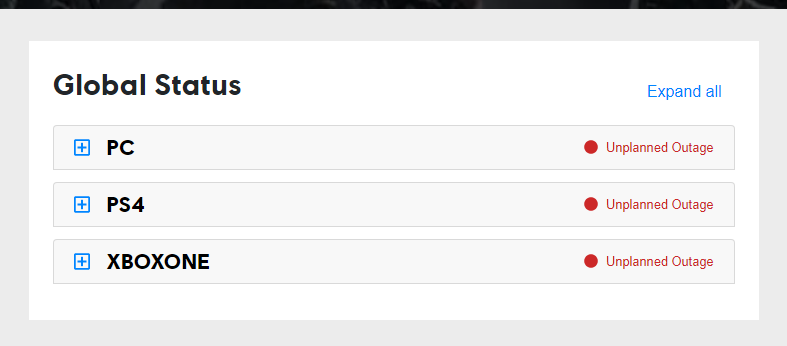 We'll be updating this article as more news develops.
Here are some of the reports from the community:
Servers down? from Rainbow6
(ps4)how do I get past this? I tried restarting my ps4 or test Connection my internet is working fine from Rainbow6
Unfortunately, the official Rainbow Six Siege Twitter account and the official Ubisoft Support account have not acknowledged the server outages so far. The only official confirmation we've gotten so far is from the Xbox Support account which made the following announcement:
We are aware that some users may be having issues playing Tom Clancy's Rainbow Six Siege. Please keep an eye here and on the status page for updates. https://t.co/PzAdjUFMJj

— Xbox Support (@XboxSupport) May 15, 2022
The official Rainbow Six Siege server status page has all platforms tagged as "no issue" for now as well, but we're on the lookout to see if things change. Same as before, if you can login, share which platform you're on and where you're playing from.