While we're just two weeks in the new year, Crystal Dynamics is already preparing the Marvel's Avengers next update which is due sometime next week! For those keeping count, this is the second title update the game has gotten this first month of 2022, though the one released in January 6 was mostly for backend fixes.
This was confirmed by a Crystal Dynamics PR rep over on Twitch: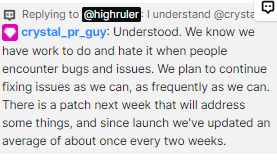 Unfortunately, there is no confirmation what exactly this patch will contain and what issues it will fix. The latest title update which included gameplay tweaks was back in December 14, and had the following list of known issues that are being investigated by the dev team:
In Discordant Sound Raid, the bubble in the first puzzle area sometimes doesn't appear, blocking progress.
On rare occasions, players may get stuck after completing the campaign.
Players may load into unintended areas in the Discordant Sound Raid.
Performance issues on PS4/PS5.
Once more details are revealed, we'll let our readers know.
Thanks, Highruler!