After the recent revelation that upcoming Bethesda and Arkane Studios shooter Redfall would require a persistent, online connection to play, it appears we have some more disappointing news regarding the game's physical release. Redfall physical version copies will not contain a game disc like other physical versions of games and instead include "Xbox Play Anywhere" codes.
This information comes from an official FAQ found on the Bethesda website. Here's the full question and answer:
WHAT CODES DO THE PHYSICAL VERSIONS OF REDFALL COME WITH?

The code contained in the physical PC copies of Redfall are Steam codes.

The physical Xbox copies of Redfall are Xbox Play Anywhere codes which can played on both the Xbox Series X|S and the Microsoft Xbox App on PC.
The webpage was spotted by a ResetEra user, with the thread commenting on the not-so-pleasant discovery. While games are becoming more and more commonly sold via online platforms, physical sales still do fairly well, with PlayStation and Nintendo Switch games getting physical copies for all their high-profile titles. It's worth mentioning that the statement doesn't technically outright state that the physical version won't have a disc, especially given the fact that selling a physical copy without the actual disc can seem somewhat strange.
Until we get word from Bethesda themselves on the matter, all we can do is wait for the physical copies to arrive on gamers' doorsteps or hit the shelves.
Update: Bethesda has updated the support article and has now said that the physical edition will come with a disc (thanks, Tom Warren)!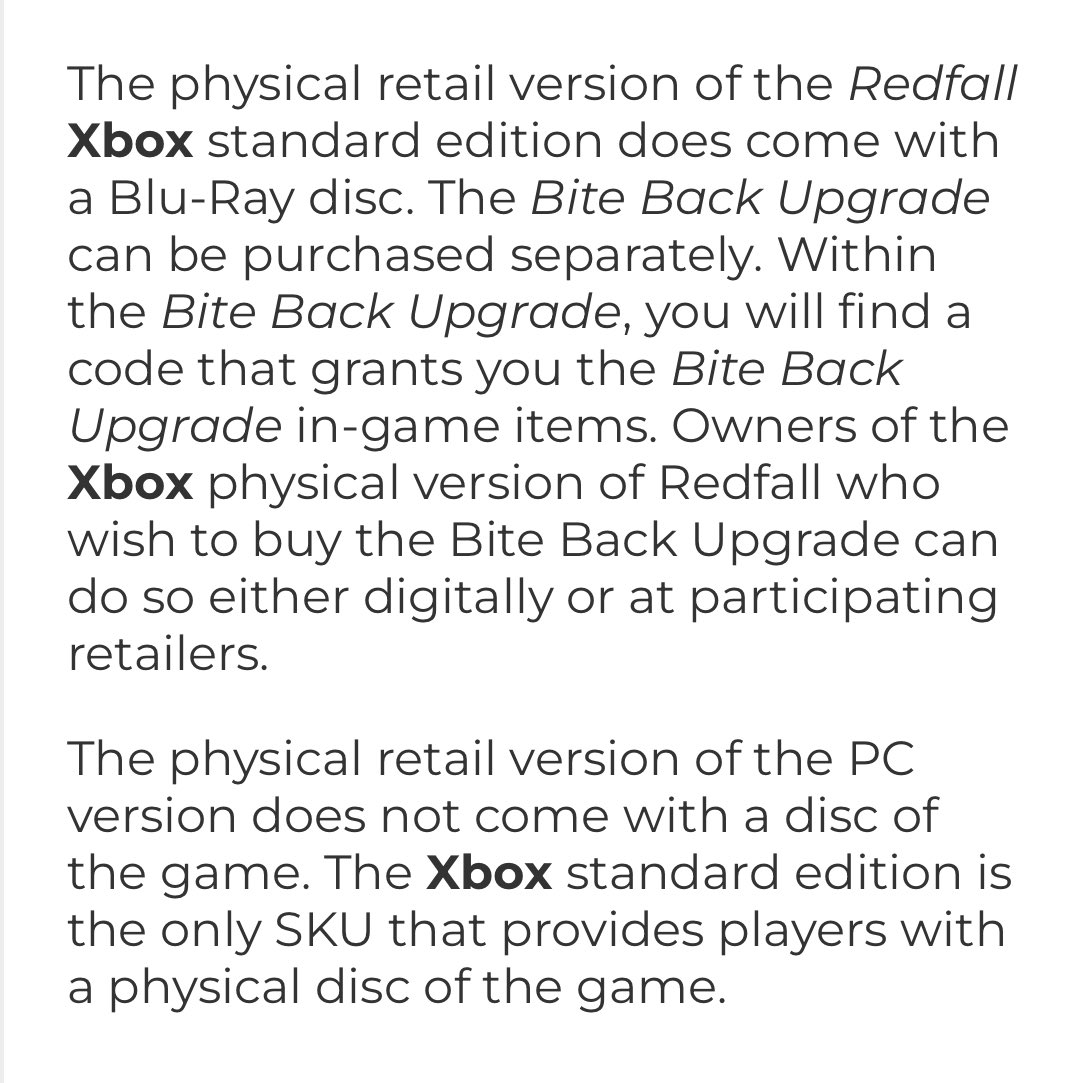 Source: Bethesda