While Crystal Dynamics has already updated the 2021 roadmap for the game before, the studio has done it once again. The major change that's reflected now in the image below, is the Omega Level threat activity has been bumped up in place of the Wasteland patrol activity, which is a change fans should welcome with open arms.
This change will see Kate Bishop's story against the Super Adaptoid, and will be multiplayer-only (read; no AI). Previously, Crystal Dynamics was planning to release the Omega Level threat activity after the Black Panther War for Wakanda expansion (due in August).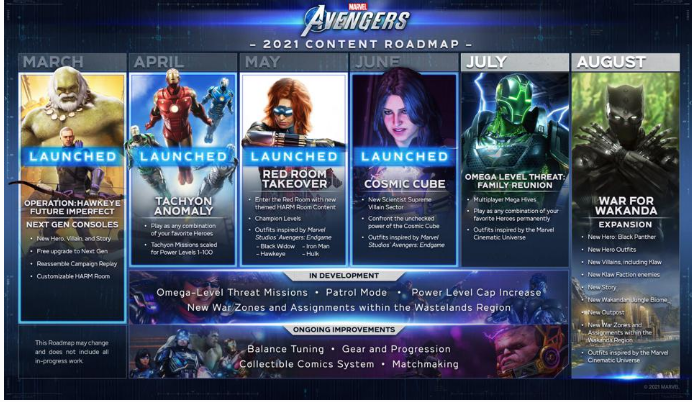 In addition to the Marvel's Avengers roadmap update, a lot of details regarding the game's future has been shared by the devs too.
First off, Crystal Dynamics has confirmed that the studio is working on loadouts in order to let players quickly equip different builds on characters, and admits that the current system for switching builds is not good.
Regarding the game's grind, the devs are working to solve the "full regrind" required right now for new characters who want to reach the max level. The studio is also working on more dedicated farming loops with clearer rewards, and to also make more types of grinds that matter other than polychoron and exotics.
For those wondering what's next after the roadmap has been completed, Crystal Dynamics has mentioned that they have ideas in mind "through 2023," though nothing is guaranteed, as there are business decisions in play here (presumably, if Square Enix will want to have the studio work on content that long given the game's not-so-stellar reception). While the content roll out might not be guaranteed until 2023, it seems like the studio does have plans for more content that will come to reality past the Black Panther expansion. There's also plans for a new roadmap to be released, which might (keyword here is "might) be for a full year or partial year of content, and simply not adding to the existing roadmap.
There's a lot more details regarding Spider-Man, and more which you can read about here.
Source: Forbes