Are you disappointed with Battlefield 2042? If you think the latest Battlefield game has some issue that need to be ironed out, you're not alone, and even the higher ups at EA think the same way as well. In case you didn't know, before 2021 was over, EA shocked gamers by announcing that not only was Vince Zampella (Respawn Entertainment boss) the newly appointed head of the Battlefield franchise, but that Halo franchise co-creator Marcus Lehto was on-board the franchise as well, as the head of the franchise's narrative.
Over on Twitter, Lehto is quite vocal in answering fan concerns about Battlefield 2042, and the franchise's future as a whole.  When asked by a gamer why EA is transforming the Battlefield franchise into something it's not, Lehto admitted that he's figuring that out himself, and he's then planning to "fix things."
I'm figuring that out myself. Then planning to fix things

— Marcus Lehto (@game_fabricator) December 31, 2021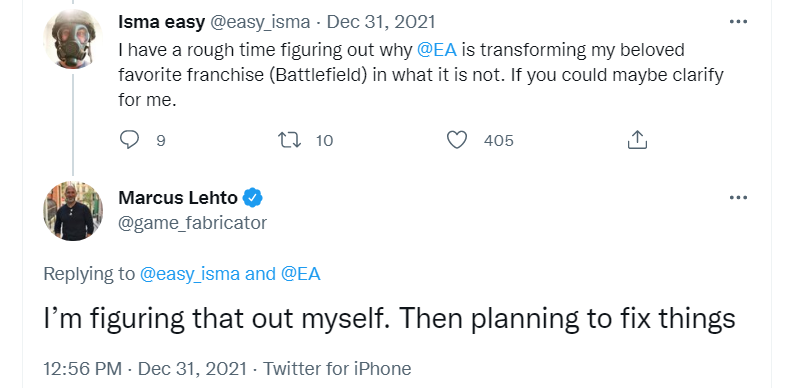 One of the biggest complains about Battlefield 2042 is how Specialists have taken over the traditional class-based system. When a fan tags both Zampella and Lehto into the conversation about it, Lehto confirmed that he is listening and wants to keep the feedback coming.
Hearing it all loud and clear. Keep it coming. And thank you!

— Marcus Lehto (@game_fabricator) January 2, 2022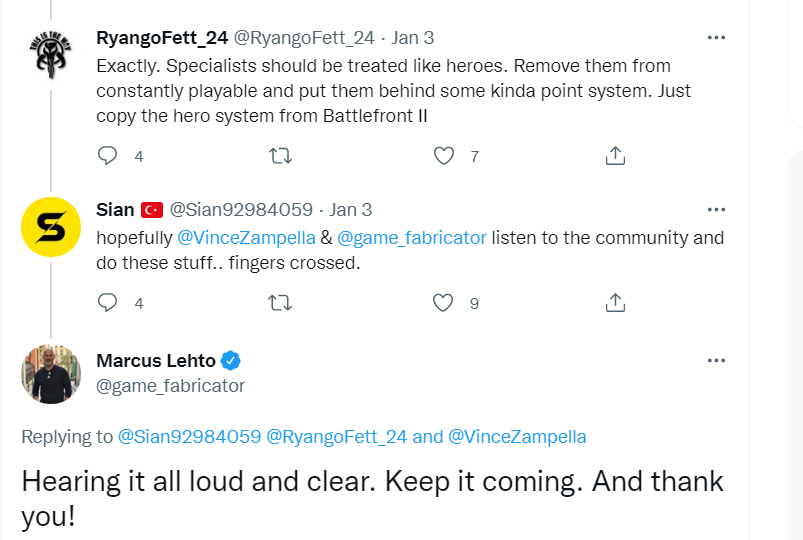 When another fan chimes in that he doesn't think EA has the willingess to make BF2042 better nor if DICE has the ability do make the game better, Lehto jumps in and states that they are willing, and they have the talent, but admits that these things take time and is not an easy task.
We've got the willingness, and then some, as well as the talent. Just is going to take some time. These things are not easy at all.

— Marcus Lehto (@game_fabricator) January 4, 2022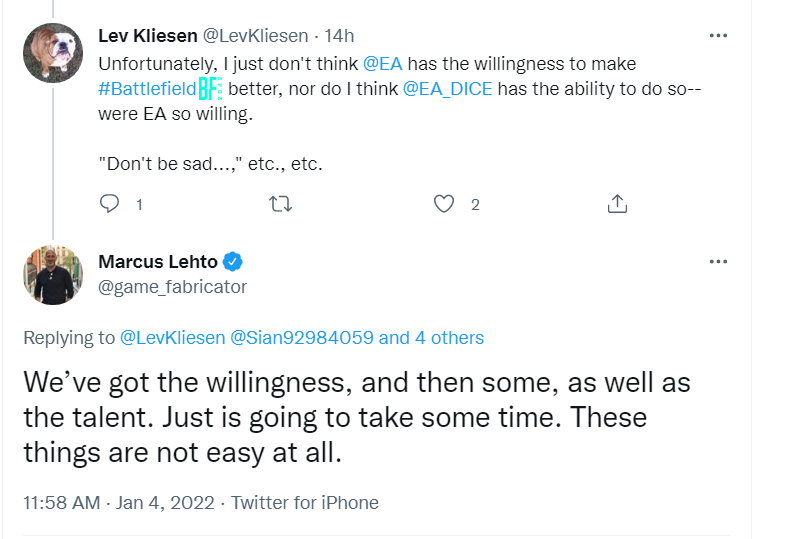 Given how DICE has fumbled on Battlefield 2042, this is quite comforting to hear from someone high up the food chain. That said, let's hope these words are backed by action, as the Battlefield franchise has taken its fair share of beatings the past few years — and with good reason. In case you haven't bought the game yet or not familiar with BF2042's issues, our review can be read here, and we admit there's a lot of work needed to make it reach its potential.
Will Lehto and Zampella be able to turn things around for Battlefield 2042 or even the entire franchise? We here at MP1st sure hope so given the community has been quite vocal in what they want, and we still haven't gotten it even after years of waiting.