Square Enix and People Can Fly are set to release a wave of new content for Outriders with its Worldslayer expansion this June 28 for early access, and June 30 for everyone else! For those curious what's incoming that's new, we're here to help with an Outriders Worldslayer new content list, as well as an explanation of the new PAX class trees, Ascension system and more!
Outriders Worldslayer New Content Overview and Explanation:
Outriders Worldslayer New Campaign, New Enemies, New Environments:
Outriders Worldslayer introduces a brand new, standalone story campaign that you can jump into even if you haven't played the original story.
The new campaign will focus on the Outrider facing up against Ereshkigal (phonetically: "EH-RESH-KE-GAL"), the commander of a new human faction called the Insurgents against the backdrop of Enoch's climate undergoing cataclysmic changes.

Ereshkigal may well be considered "The First Altered".

Throughout Worldslayer you will of course also be travelling to new locations. You can see footage from the Glacier's Edge and Driftwater environments in press coverage this week. Both are environments from relatively early on in the campaign.
Worldslayer will introduce new enemy variants as well as some entirely new adversaries and bosses. You may have spotted some of them in our Spotlight already and we do plan on showcasing more of them in future via our social channels.
New Gear:
Outriders Worldslayer will of course introduce a host of new gear, both in terms of weaponry and armour.
Each class will be getting dedicated new 5-piece Legendary Armour Sets.
Worldslayer does also introduce a few new 3-piece Legendary Armour Sets, which will be universally equipable by all classes. These will have their own set bonuses as well.

Note: Some of the previous Legendary Armour Sets and Mods will also be reworked as part of the Worldslayer launch!

Each new Legendary Gear piece introduced in Worldslayer also comes with a new Mod.
We're planning to show off some of the special Gear you can obtain in Worldslayer on our social channels between now and launch – make sure to follow us there if you're interested!
Welcome to Outriders Worldslayer Legendary Armor Week!

Stay tuned for deepdives into a new Legendary Armor every day until June 3rd.

Introducing:

The Concussioner

Discover some of the insane mods that make this build a stunner 😵 pic.twitter.com/nEEeTpN31z

— Outriders (@Outriders) May 31, 2022
Breakdown of the Concussioner Legendary build:
Featured Mod:
Chip Off the Old Block – Spawn a Golem Clone that jumps towards your nearest enemy and deals 300% damange within a 3 meter radius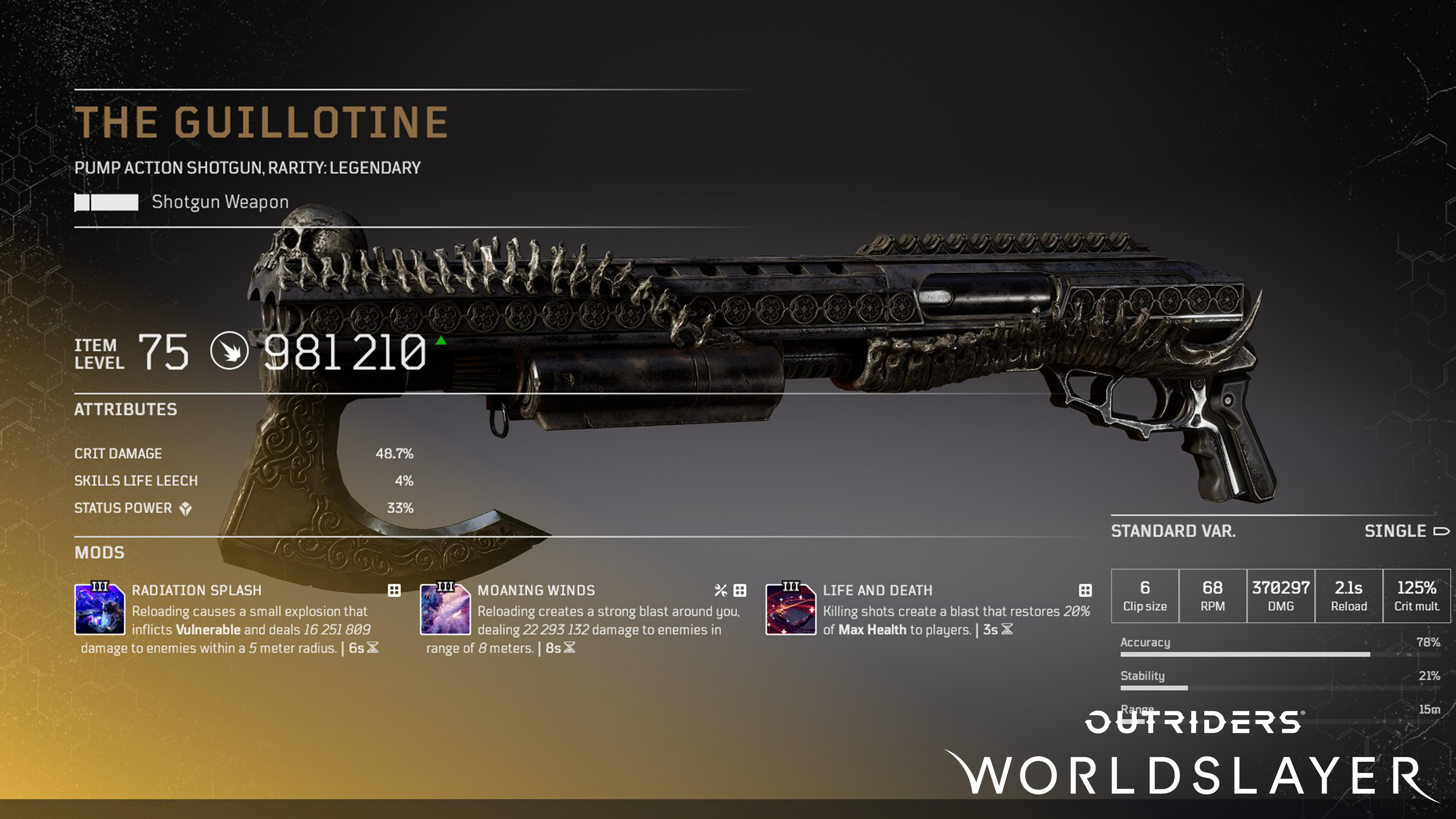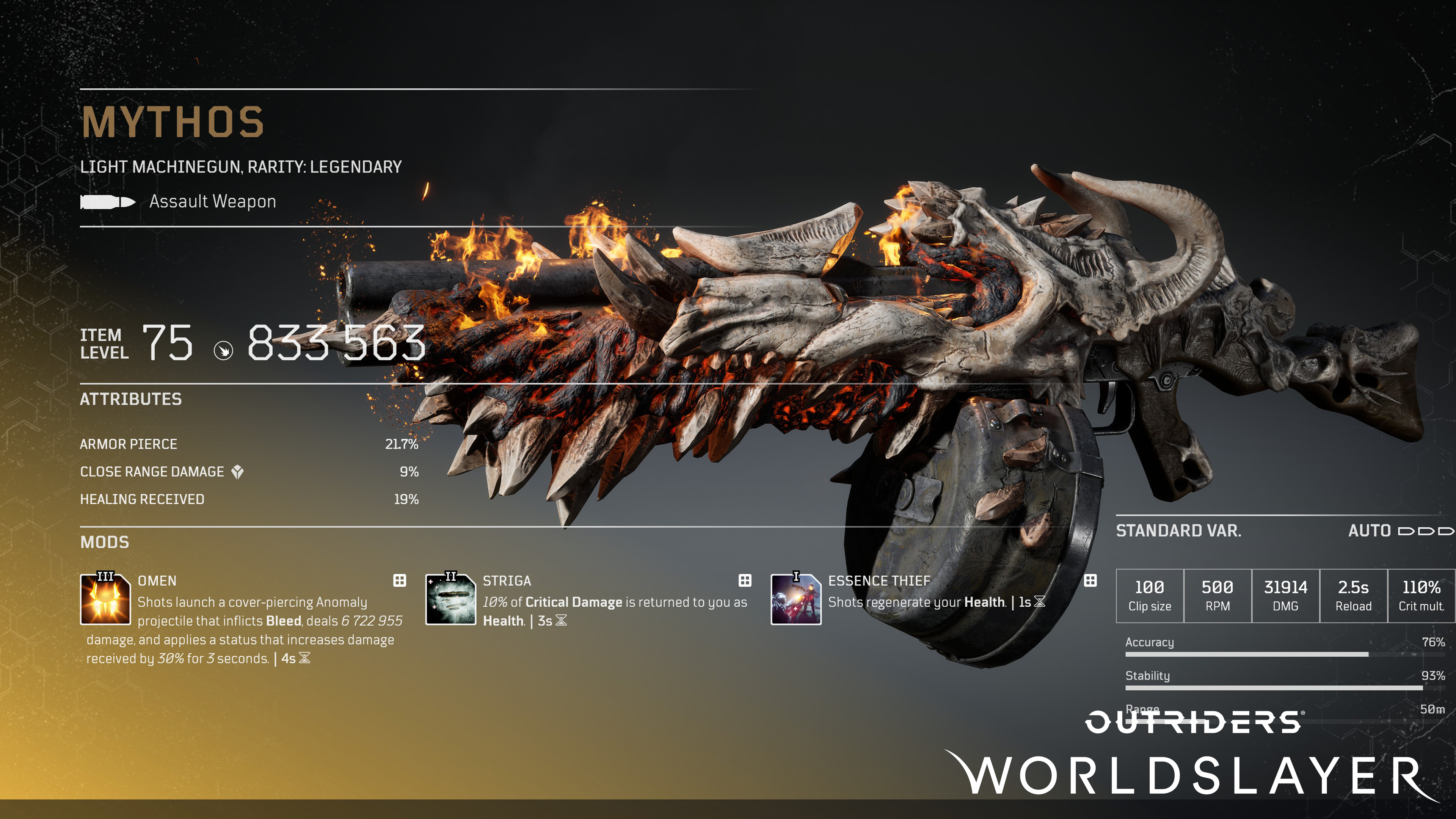 Introducing:

The Shieldbeast

Discover some of the insane mods that make this build a true monster pic.twitter.com/ANMfr00L4b

— Outriders (@Outriders) June 1, 2022
Breakdown of the Trickster Shieldbeast build:
Shieldbeast Set Bonus:
Every percent of shield increaes anomaly power by 1%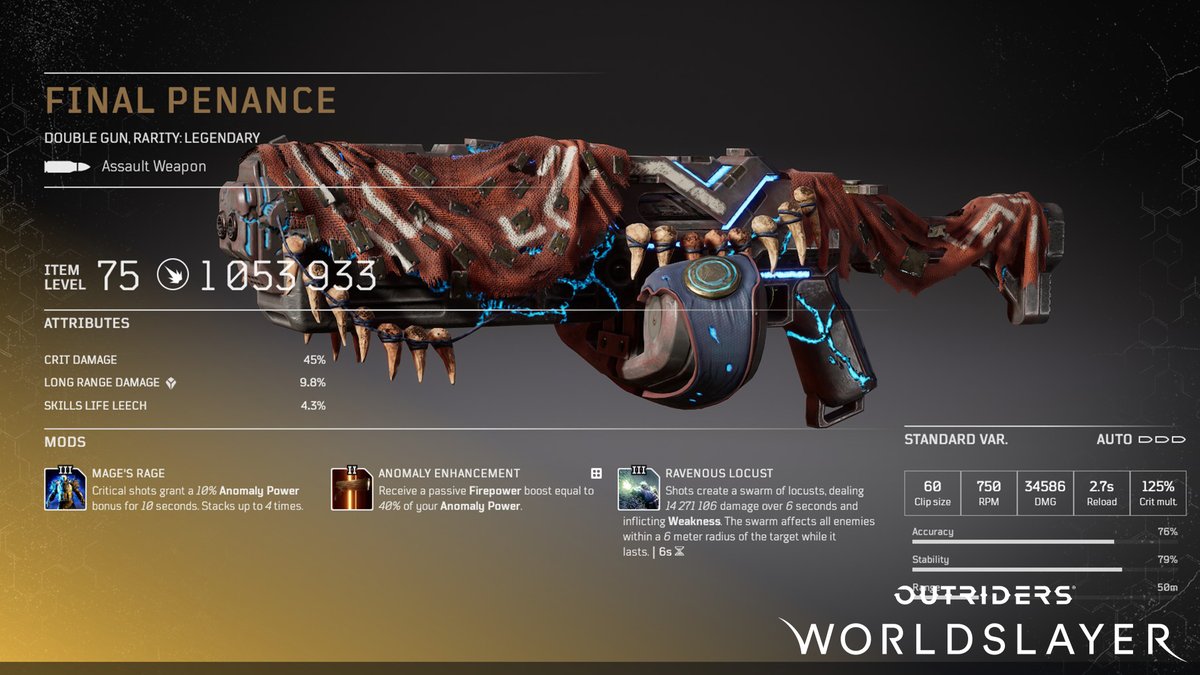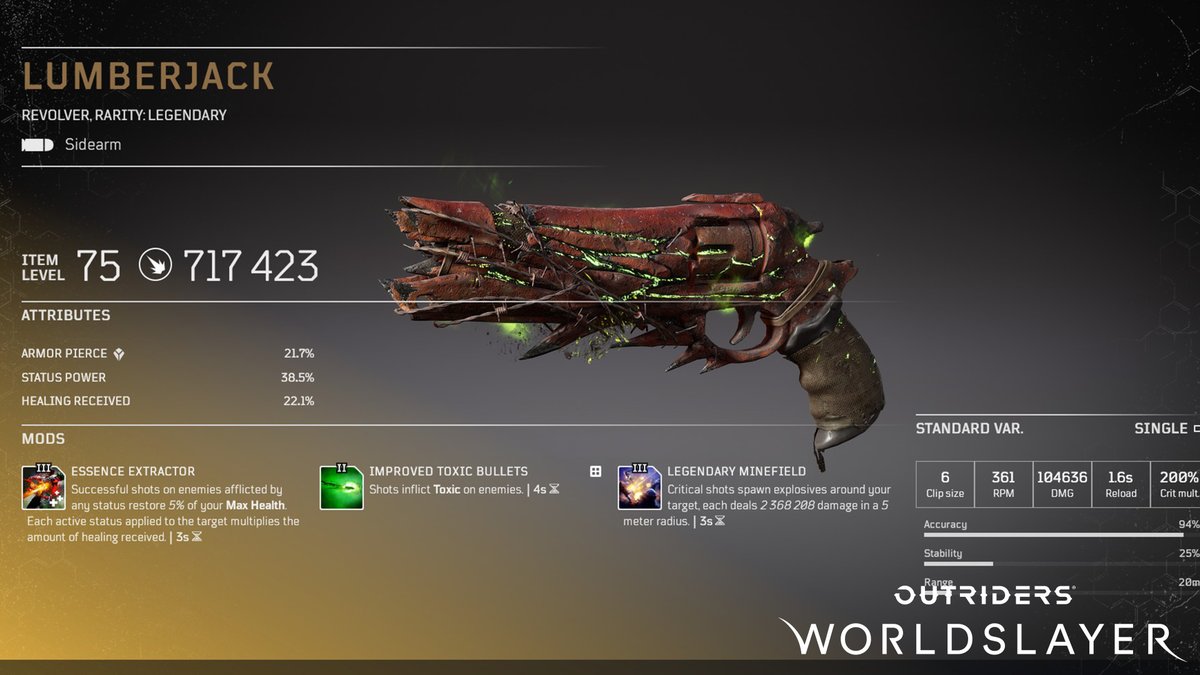 Legendary Armor Week continues!

Introducing:

Scorched Zealot 

Here's why this Legendary Armor brings the heat pic.twitter.com/t9beMcR4zh

— Outriders (@Outriders) June 2, 2022
Breakdown of the Scorched Zealot build: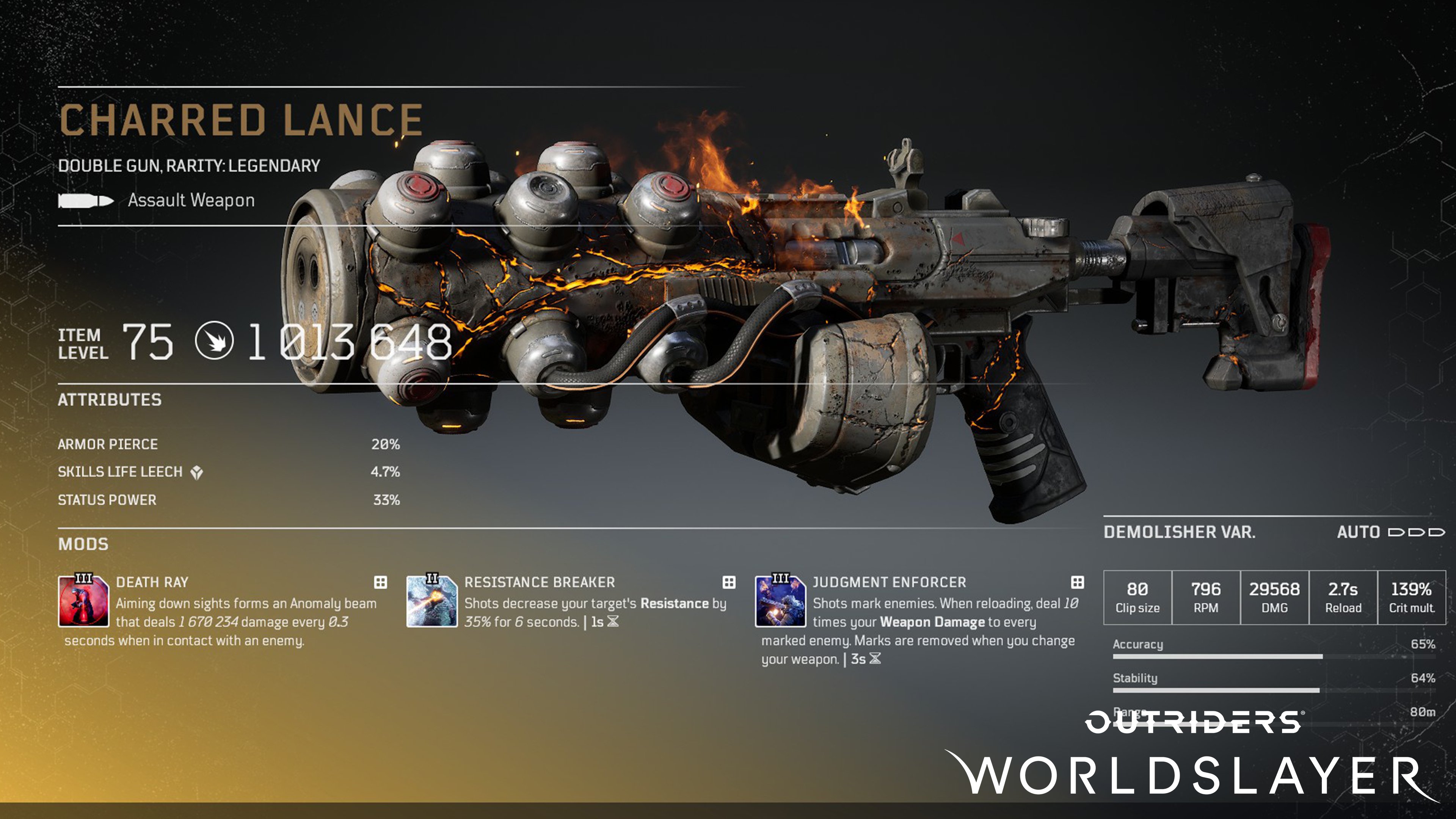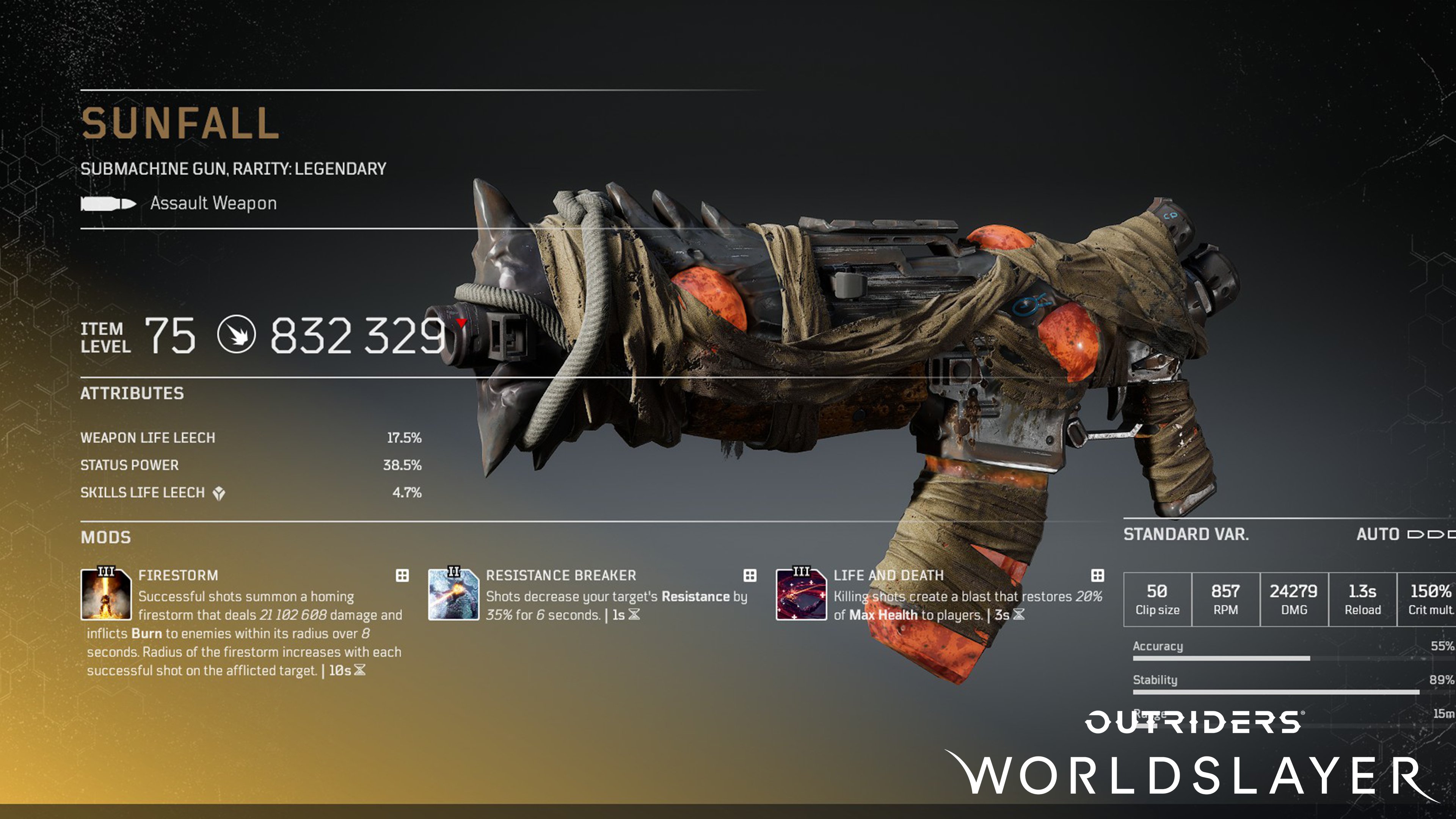 Introducing:

Legendary Technomancer Armor Flame Leper

Discover why this build is unstoppable. pic.twitter.com/IQXAOnopq0

— Outriders (@Outriders) June 3, 2022
Breakdown of the Flame Leper build: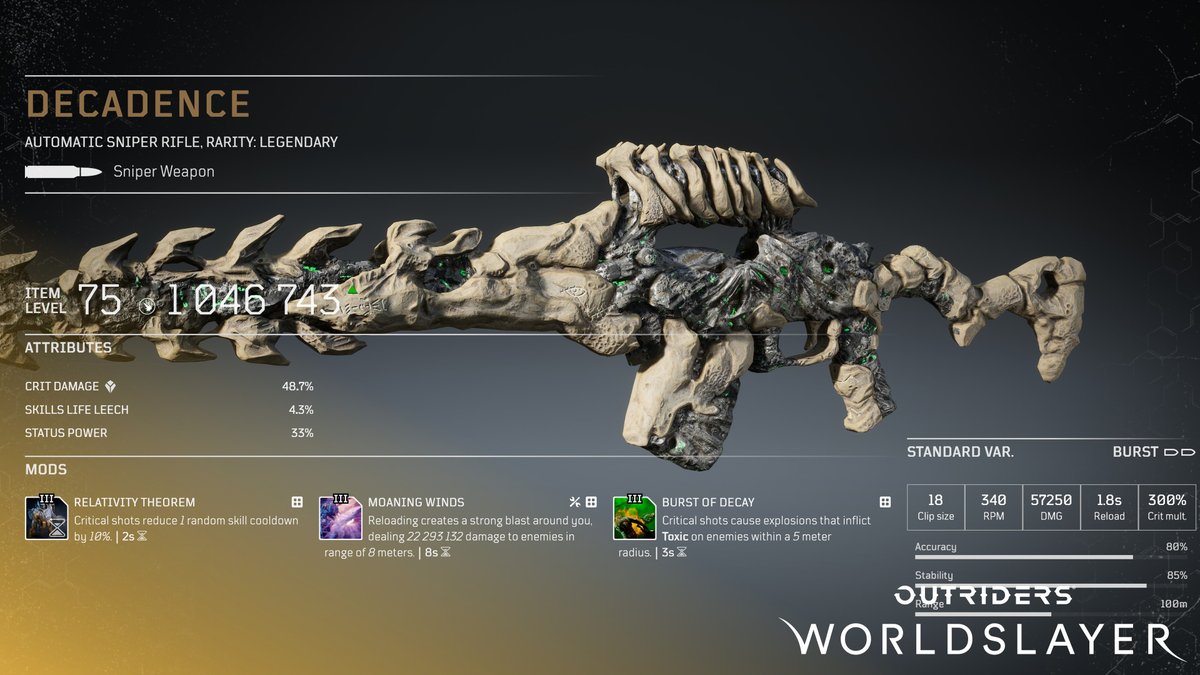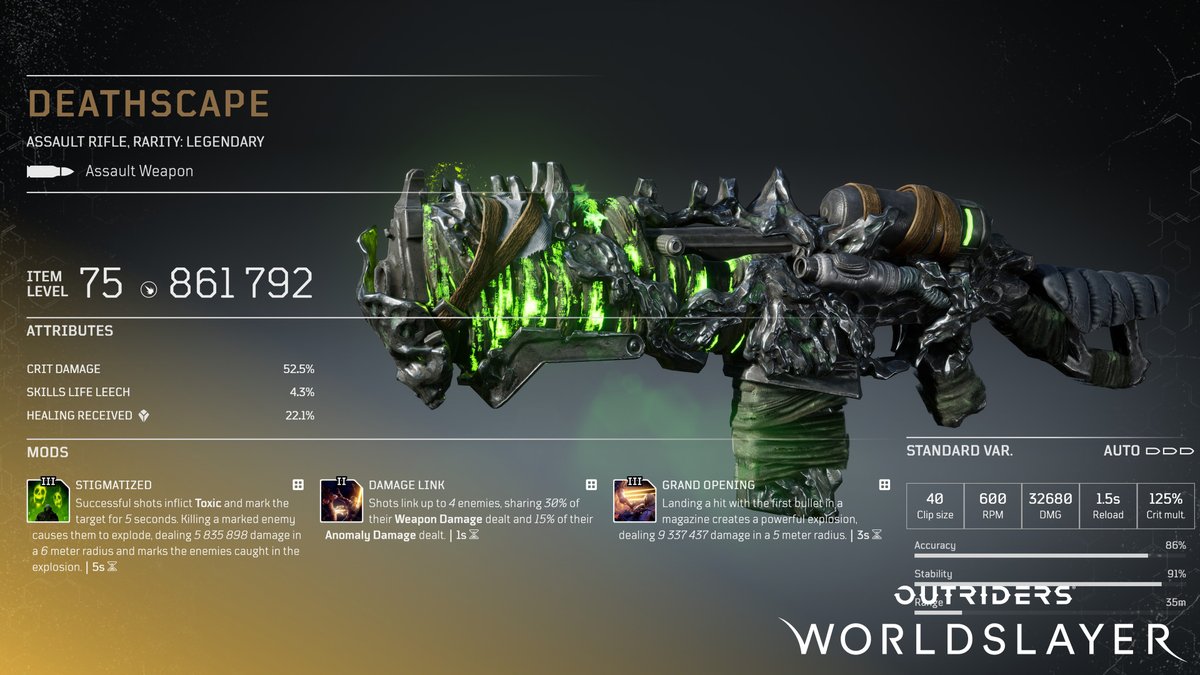 New PAX Class Trees:
Outriders Worldslayer introduces a new class tree: The PAX tree.
The PAX tree is a separate class tree from the existing three branches you're familiar with and it requires it's own PAX points to activate nodes within it.
PAX points are acquired at certain points in Worldslayer that are based on general progress rather than a specific level grind.
The PAX tree itself is comprised of 2 branches for each class, though similar to the main skill tree, these are interlinked.
Each node in the PAX tree is equivalent to the major nodes in the original class trees, so every choice you make in the PAX tree will be impactful to the performance of your Outrider.
Just like the main skill tree, the PAX tree can be freely respec'd.
The idea behind the PAX tree is to allow players to either specialise further into a specific direction or to better enable hybrid builds.
The branches of each PAX tree are called:

Pyromancer
Technomancer
Devastator
Trickster

The PAX tree will unlock at level 30 after you start playing the Worldslayer campaign.
New Ascension System:
Outriders Worldslayer introduces a new longterm progression system called Ascension.
The idea of Ascension is to give your continued play an ongoing "next level" to work towards alongside regular play.
Continued Ascension by itself does not unlock or gate better gear or content. It is purely designed to make you stronger.
The Ascension system is currently balanced so that it would take you hundred+ hours to fully complete it.
Leveling up Ascension is done by collecting exp from killing enemies. It is only available from Character Level 30 onwards and with Worldslayer installed.
XP earned after Level 30 will go towards Ascension Levels which in turn provide you with Ascension Points.
You will be able to invest your Ascension Points into any of the four Ascension categories: Brutality, Endurance, Prowess or Anomaly.
Each of these categories have five options in which to invest.

For example, you could invest your points to reduce your cooldowns, increase your life or resistances or output more damage.

Each option in each category can have up to 10 Ascension Points invested into it.
You can reach level 200 Ascension in Worldslayer, for a total of 200 Ascension Points. At 200 Ascension Points, you will have completely filled out each option in each category.
You can mix and match where you invest your points and you can always freely respec your Ascension Point distribution.
Like the newly introduced PAX Tree, Ascension is intended to allow players to either supercharge a specific build or to better create a hybrid build that works across multiple playstyles.
Apocalypse System Intro + Third Mod Slot:
As a reminder, the Tiers systems in Outriders allow each player to fine-tune the difficulty of the game to their own needs. Higher Tiers mean higher difficulty but also improved rewards and the ability to equip higher level gear.
Outriders Worldslayer introduces a new Apocalypse system that heavily impacts your Max Gear Equip level, the Difficulty Tiers system and, most importantly, Loot.
Challenge Tiers are being replaced by Apocalypse Tiers.

This change will affect all versions of Outriders, even if you do not have Worldslayer installed.

Apocalypse Tiers will determine not just the difficulty and reward scaling of Expeditions but also of all Worldslayer content (campaign and endgame).
Apocalypse Tiers will go up to Tier 40 and will act as a natural extension of World Tiers which do still remain in place for the original Outriders campaign. The original Outriders campaign can, however, be played using Apocalypse Tiers instead, should you have Worldslayer installed.

The max Apocalypse Tier you can unlock by completing Expeditions content in the base game (without Worldslayer installed) is 15.
With Worldslayer installed, you can still play Expeditions to continue unlocking higher Apocalypse Tiers above Tier 15.
At Apocalypse Tier 15, your Max Gear Equip Level will still be Level 50, as it currently is.
At Apocalypse Tier 40, your Max Gear Equip Level will be Level 75, which is the new gear level cap.

When playing above a certain Apocalypse Tier, there will be a chance for Apocalypse Gear to drop.

Apocalypse Gear pieces are special variants of Epic and Legendary Gear pieces in the game.
Apocalypse Gear pieces have three mod slots.
Apocalypse Gear can currently only be obtained through drops, it cannot be crafted.
You can identify Apocalypse Gear by a special icon when hovering over it.
Endgame Overview:
After conquering a harrowing journey through the diverse and savage planet of Enoch, players will face the deadly Trial of Tarya Gratar, the all-new endgame challenge in OUTRIDERS WORLDSLAYER.

Explore a completely new area that holds some of the deepest secrets of Enoch, filled with fearsome enemies to challenge. Choose your path through the Trial, take on epic boss battles and unearth loot filled Troves. Discover new Legendary Gear, including the new Apocalypse Gear that features a powerful third Mod slot.

Created with a gauntlet run approach in mind, The Trial of Tarya Gratar resets and starts you back at the beginning if you complete or abandon a run, or simply die too many times. Each time you start back at the beginning, you'll be even more powerful and better equipped to succeed the next time.
Release Timing: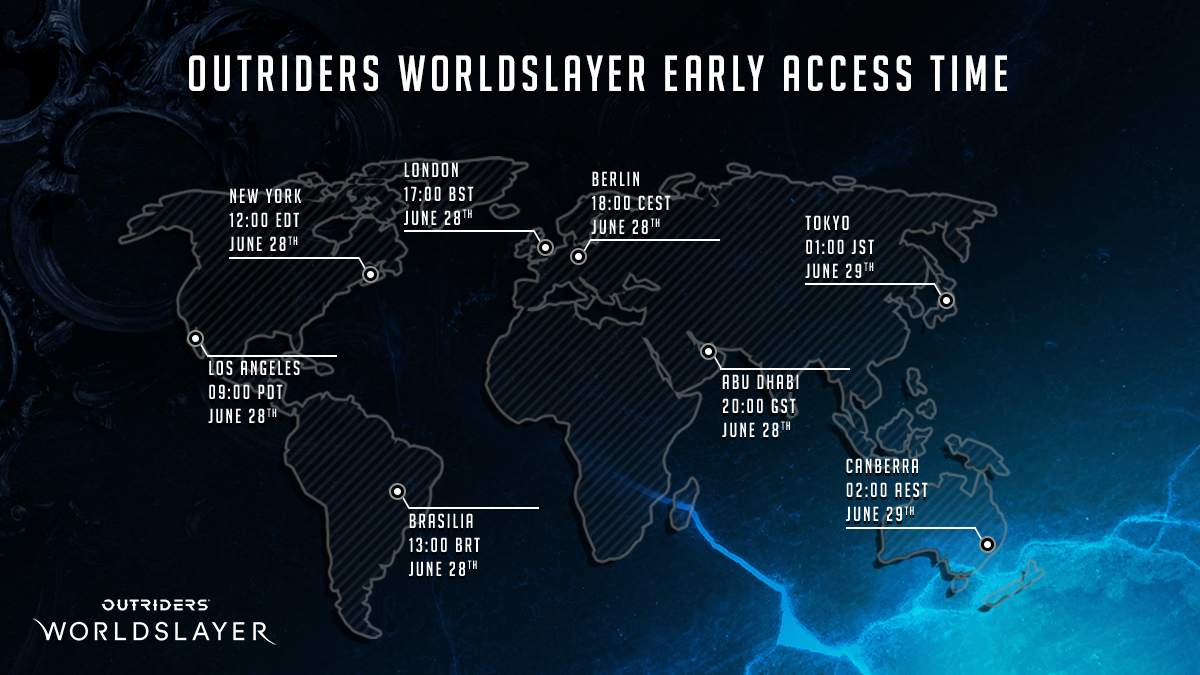 Outriders Worldslayer will launch into Early Access on June 28th, starting at 9:00am PDT / 16:00 UTC / 17:00 BST [Countdown].
Outriders Worldslayer will fully launch on June 30th, at the same times as above.
When Worldslayer launches on June 28th, all players will need to download and install the latest build, regardless of whether they have purchased Worldslayer or not. The Worldslayer build introduces plenty of bug fixes and balancing changes that will affect the base game as well.
Note that while the Worldslayer new content are reserved for those who bought the DLC, all players will need to download a client patch for it, which will contain its own set changes that will affect players regardless whether they bought the DLC or not.
Go check out what we thought of the DLC in our hands-on early preview right here.
Source: Reddit and official press release and materials