Those looking forward to a new Silent Hill game, it seems we finally have our first concrete details that it exists — if these recent details and concept art shots are to be believed.
Over on Twitter, horror gaming aficionado DuskGolem has shared what seems to be the first concept art for the new (and unannounced) Silent Hill game, alongside new details about it.
Unfortunately, the tweet featuring the concept art has been DMCA'd, which further adds legitimacy to the images given they were asked to be pulled from the platform:
Here's a gallery featuring the images:
Alongside the images, DuskGolem has shared quite a bit of info on Twitter and on ResetEra, which we've collected below.
(1/2) are a bit dated, from 2020, so maybe this project looks a bit different now. But what I'm choosing to share. I know many will doubt this, but I have a lot of private proof to show this is real, & as always, I continue to wait on the Silent Hill game reveal.

— AestheticGamer aka Dusk Golem (@AestheticGamer1) May 13, 2022
— AestheticGamer aka Dusk Golem (@AestheticGamer1) May 13, 2022
Deleted the leftover pic just to not get my account banned, but this is a development, for certain.

— AestheticGamer aka Dusk Golem (@AestheticGamer1) May 13, 2022
I promise you, every Silent Hill leak I've said is 100% true has been. https://t.co/DNcKoyjIMp

— AestheticGamer aka Dusk Golem (@AestheticGamer1) May 13, 2022
(2/2) notifications, some other places. And no one has even remotely been right about the game's narrative.

— AestheticGamer aka Dusk Golem (@AestheticGamer1) May 13, 2022
The Japanese text in the last image in the gallery when translated reads (via totallywackman):
July 24th 2020

Dear Krista Neumann

The authorities have repeatedly requested an interview with you, but you have not responded at all. We consider this an unwillingness to resolve the problem and, in violation of section 1631(2) of the civil code, we are taking both of your children into custody by order of the Federal Court Officer.

If you wish to file a claim, please apply to the authorities and submit tour request for an interview as soon as possible.

Failure to do so will be considered abandonment and the authorities will proceed with temporary protection measures in accordance with their regulations. If this happens, any appeal will not be accepted.
Over on ResetEra, DuskGolem shares that the game is being developed by more than one studio, and wouldn't confirm or deny whether Bloober Team (The Medium) is involved or not.

DuskGolem also confirmed that Sony is still involved:

DuskGolem also confirmed that the company that issued the DMCA takedown is Konami (who owns the Silent Hill IP):
It seems Masahiro Ito, Japanese video game artist known for his work on the  Silent Hill franchise, seems to be connected as well: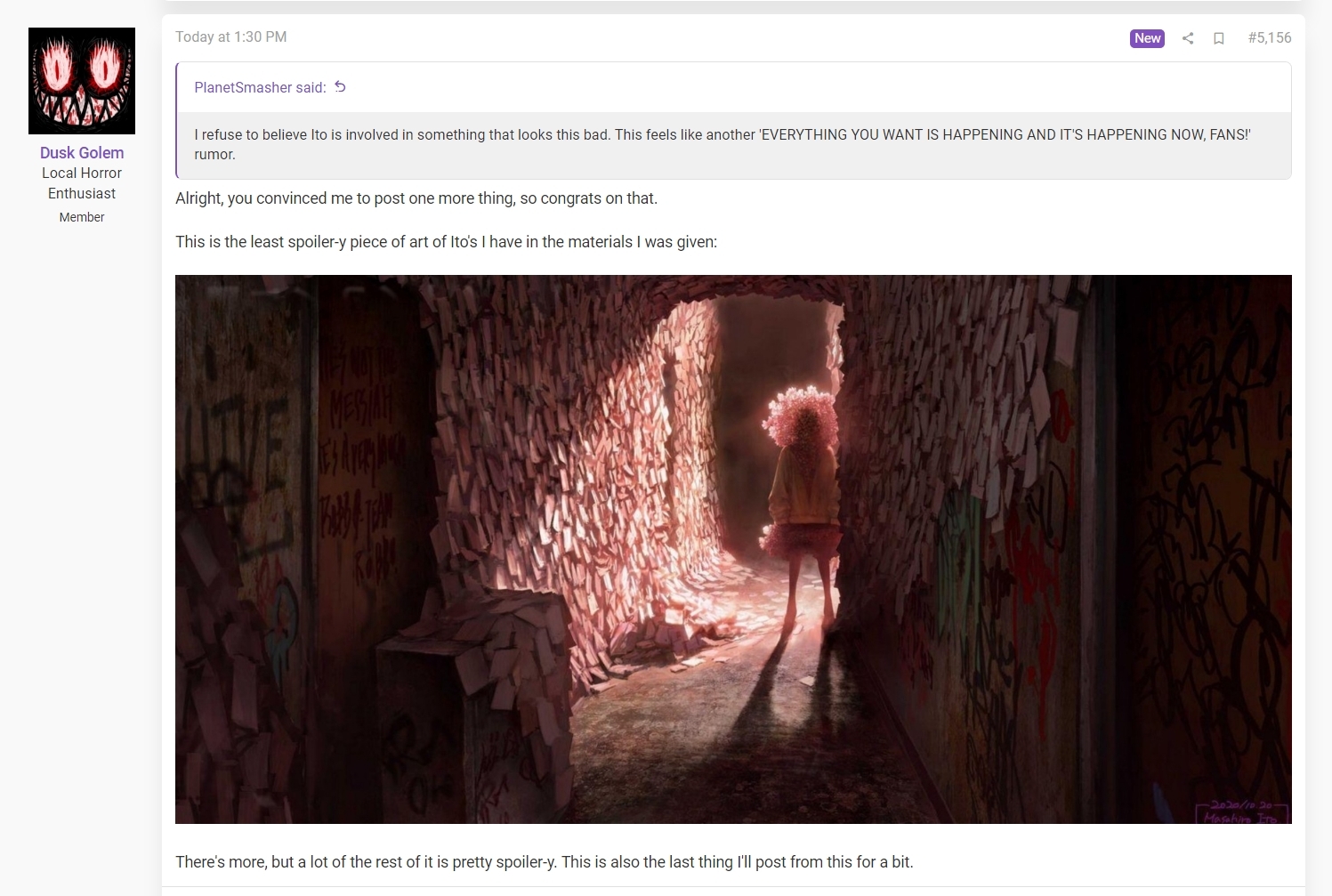 Same as any rumor/report, treat this one with a grain of salt, as nothing has been confirmed by Konami, Sony or anyone connected to the franchise. That said, this isn't too hard to believe, as credible sites like Gematsu has confirmed back in October 2021 that a new Silent Hill game is indeed being developed alongside other Konami IPs.
For reference, the last Silent Hill game released was Silent Hill: Downpour which was way back in 2012. We did get P.T. from Hideo Kojima, which was supposed to be an all-new Silent Hill game, though that never materialized given the Konami-Kojima falling out.
Once we know more about this project, we'll be sure to let our readers know.