As part of the leaked Microsoft vs. FTC documents that someone apparently forgot to redact, it seems the existence of a bunch of Bethesda games have surfaced! From what was listed, an Oblivion Remaster, a titled called "DOOM Year Zero" and more are apparently in the works.
Bethesda Games Leak via FTC Court Documents:
FY22E:
Indian Jones Game
Oblivion Remaster
Elder Scrolls Online Expansion
Starfield DLC
FY23E:
DOOM Year Zero & DLC
Project Kestrel
Elder Scrolls Online Expansion
Project Platinum
FY24E:
The Elder Scrolls VIO
Project Kestrel Expansion
Licensed IP Game
Fallout 3 Remaster
Elder Scrolls Online Expansion
Ghostwire Tokyo Sequel
Dishonored 3
DOOM Year Zero DLC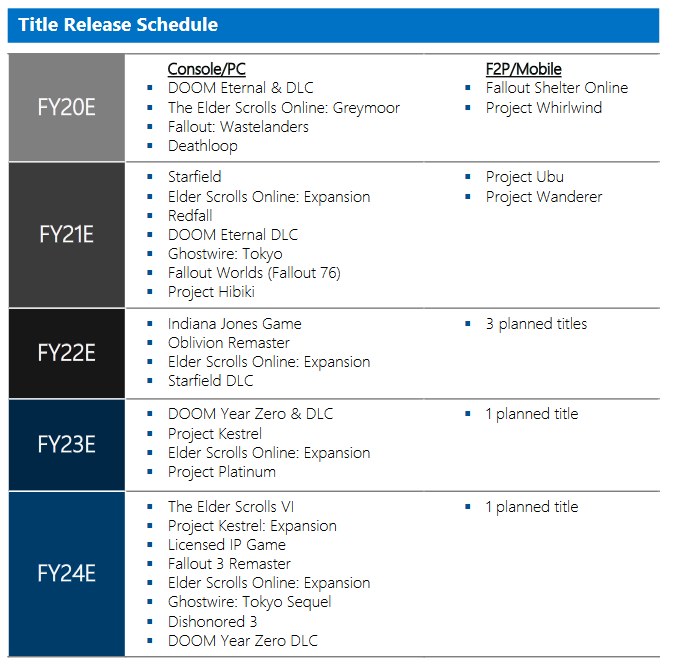 Important to note that none of these have been confirmed, and things could change regarding the release window, title and other details. However, given the leak, this does seem very plausible and if so, we might have just gotten an info dump of all the things Bethesda is working on right now.
Few key things to note here is: The Elder Scrolls Online seems to have a ton of content incoming, DIshonored 3 is in the cards at Arkane Studios (which should make a lot of people happy especially after Redfall), we're getting a new DOOM game, and there's a lot of unannounced projects with just codenames brewing.