Update: It's now official, the bundle is available for pre-order, and will release along side Halo 4 on November 6th for $399.99, according to Microsoft's Major Nelson.
Original story: In typical Microsoft tradition of releasing an limited edition Xbox 360 based off of one of their exclusive games, they have recently put up a listing for a Halo 4 Limited Edition Xbox 360 console bundle. Though it has mysteriously disappeared after a few short moments of being up, I was able to salvage some images and specs of this beautiful limited edition Xbox 360 for your enjoyment.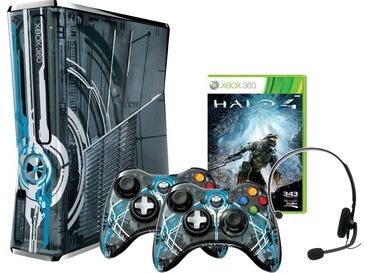 Here are the specs for the Halo 4 Limited Edition Console and what's included in the bundle:
Exclusive Xbox 360 design.
320gb hard drive.
Two custom Halo 4 wireless controllers, which comes with blue LED lights, rotating d-pad and the maximum range is 30 feet.
Includes standard edition of Halo 4
Downloadable Halo 4 content. This contains access to a unique armor skin, unique weapon skin, unique emblem, matching avatar armor, and a unique avatar prop.
Exclusive On/Off and eject sound effects that mimic some of the actual in-game sounds.
Make sure to keep your eyes on MP1st as we find out more and let us know in the comments if you would pick up a Limited Edition Halo 4 Xbox 360 Console!
In case you missed it, here's some gameplay footage of Halo 4 on 343 Industries' new Infinity Slayer and Regicide game modes.
Halo 4 is slated to be released on the Xbox 360 on November 6. Pre-order now to receive exclusive multiplayer skins and armor from your favorite game retailer.