Some keen eyes caught what might have been a little slip up from the Danger Close team revealing a possible beta Medal of Honor: Warfighter beta incoming this October.
The image below from the official Medal of Honor twitter handle, later removed, clearly states a Beta starting "early October." According to the images within, it looks like the beta would take place on Sarajevo Stadium where players would get the chance to try out the new Hotspot mode. It also seems that players may be able to access certain Battlelog features.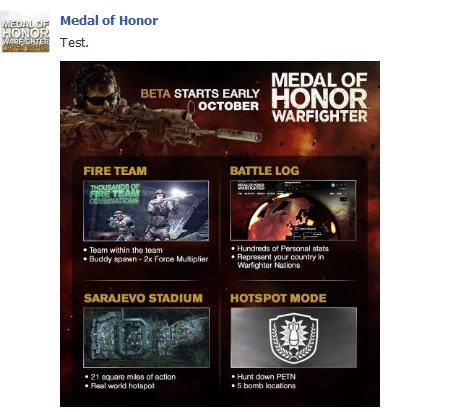 While not officially announced, a beta could do wonders for Warfighter, releasing this October 23rd. Would you play it?
Stay tuned for any official announcements and ways to enter the beta, should it be announced. To keep informed, you can follow MP1st of Twitter and Facebook!
Thanks, SuchSimplicity! Via,RK1Apocalypse and a number of other MP1st readers.