Last week, DICE rolled out the what is probably Battlefield 2042's biggest patch to date with title update 4.0. Not only did this patch include over 400 fixes and gameplay improvements, but even a slew of pre-season challenges were unearthed which suggests that Season 1 will start sometime in June. In addition to that, it seems DICE is planning to kick off the Battlefield 2042 in-game store soon-ish, as new category images have been spotted in the game files, too!
Unearthed by reliable Battlefield dataminer temporyal, the in-game store category images were included in patch 4.0, and included bundles, cosmetics for soldiers, weapons and vehicles, and XP boosts. Ther were also files for five Premium currency packages and tiers, and weekly and bonus missions for the upcoming Battle Pass which we have not heard anything abouy since the game launched.
New category images for the #Battlefield2042 ingame store arrived with Patch 4.0:

📦 Bundles
🔫 Soldier, Weapon & Vehicle Cosmetics
⬆️ XP Boosts

Other files include 5 Premium Currency packages and tiers, weekly & bonus missions for the upcoming Battle Pass.

Store menu images: pic.twitter.com/rkyPDVg26N

— temporyal (@temporyal) April 24, 2022
The dataminer also adds that the old version of the soldier cosmetics tile for the store menu was part of the Battlefield 2042 technical test client, and also features an unknown Specialist which they think might be "Hale" — a Specialist that was spotted in the data files recently.
In addition to the in-game store, another thing that was spotted a Specialist rework! This mentions "class selection," "progress" and "level." It even mentions "combat medics" and what they can do. This makes sense, as DICE has confirmed recently that Specialists are not getting removed but reworked.
Potential references regarding the rework of specialists in the #Battlefield2042 Patch 4.0 files:

🔹 CLASS SELECTION
🔹 PROGRESS
🔹 LEVEL

New ingame class description: "COMBAT MEDICS can increase a unit's survivability through their ability to revive and boost team health." pic.twitter.com/00YfhCYtnj

— temporyal (@temporyal) April 22, 2022
In other Battlefield 2042 news, Battlefield Community Manager Straatford87 confirmed (via the EA Answers forums) that a fix is incoming for an HDR option fix for consoles, so that it'll be enabled automatically if your TV/monitor supports it. This fix will be released in a future update.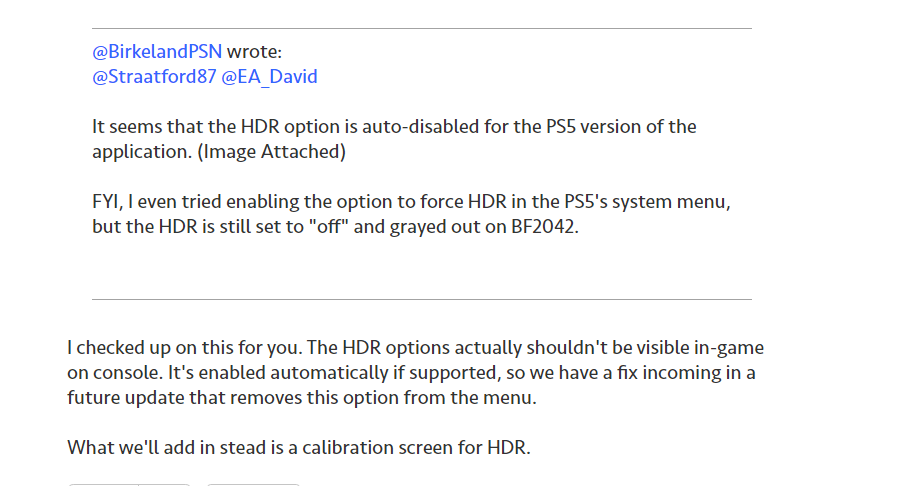 Same with everything that's datamined, the findings here do not guarantee that an in-game store selling cosmetics and XP boosts will be making its way out anytime soon, though don't be surprised if they do. I mean, this is the sort of the thing that makes sense to be part of the Season 1 roll out. Hopefully, the game is in a much better shape (and there's a ton of new content) before we see microtransaction of any kind make its way out.