In addition to fixing the infamous Heavy Ammo Bug and re-tuning many of Destiny's primary and secondary weapons, the game's next major update, still on course for a late-February launch on all platforms, will also include a few 'quality of life' improvements to look forward to.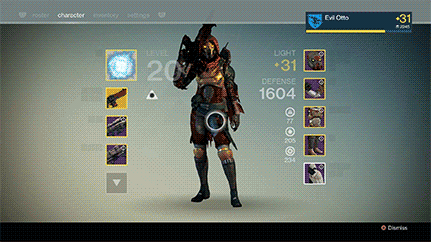 Above is a new UI concept that Bungie User Interface Design Lead, David Candland, says will allow players to check up on their reputation standings with various factions in the game without having to travel to the Tower.
"We've created a way for you to see your faction reputations and weekly marks without having to run from vendor to vendor in the Tower. Now this information is never more than two clicks away," he explains.
"We're working on a lot of new features. This one is being included in 1.1.1 because it had a very low impact on our Test team. We've known we've wanted this feature since we donned our first piece of faction class gear, and the community has too. It was a no-brainer."
"Where do you put it, and how much information do you include? Since reputation really affects your buying power, it made sense to put it in close proximity to your currencies. The inventory screen real estate is pretty full, so using the fly-out convention we established in the settings screen was a way to recoup some space, yet still allow tooltips for another layer of detail."
A small but neat addition that has been a request from the community for quite some time now. Look for it in Destiny Update 1.1.1, due out later this month, and keep your sights on MP1st for more Destiny news.