While Apex Legends  got hacked over the weekend by people campaigning to "save Titanfall," it seems it's now Titanfall 2's turn now, as Titanfall 2 down reports have surfaced on both PS4 and Xbox One!
Reports started earlier today, and unfortunately, it has not been fixed until now.
Titanfall 2 Down Reports:
Update (7/12/21): After a few days of issues, Titanfall 2 servers are now back up per Reddit! Go out there and soar, Pilots!
Update (7/9/21): In case you're wondering, yes, servers are still having issues, and the Titanfall community has even pinned an announcement regarding it.
The DDOS shit has finally hit me here on east coast PS4 servers from titanfall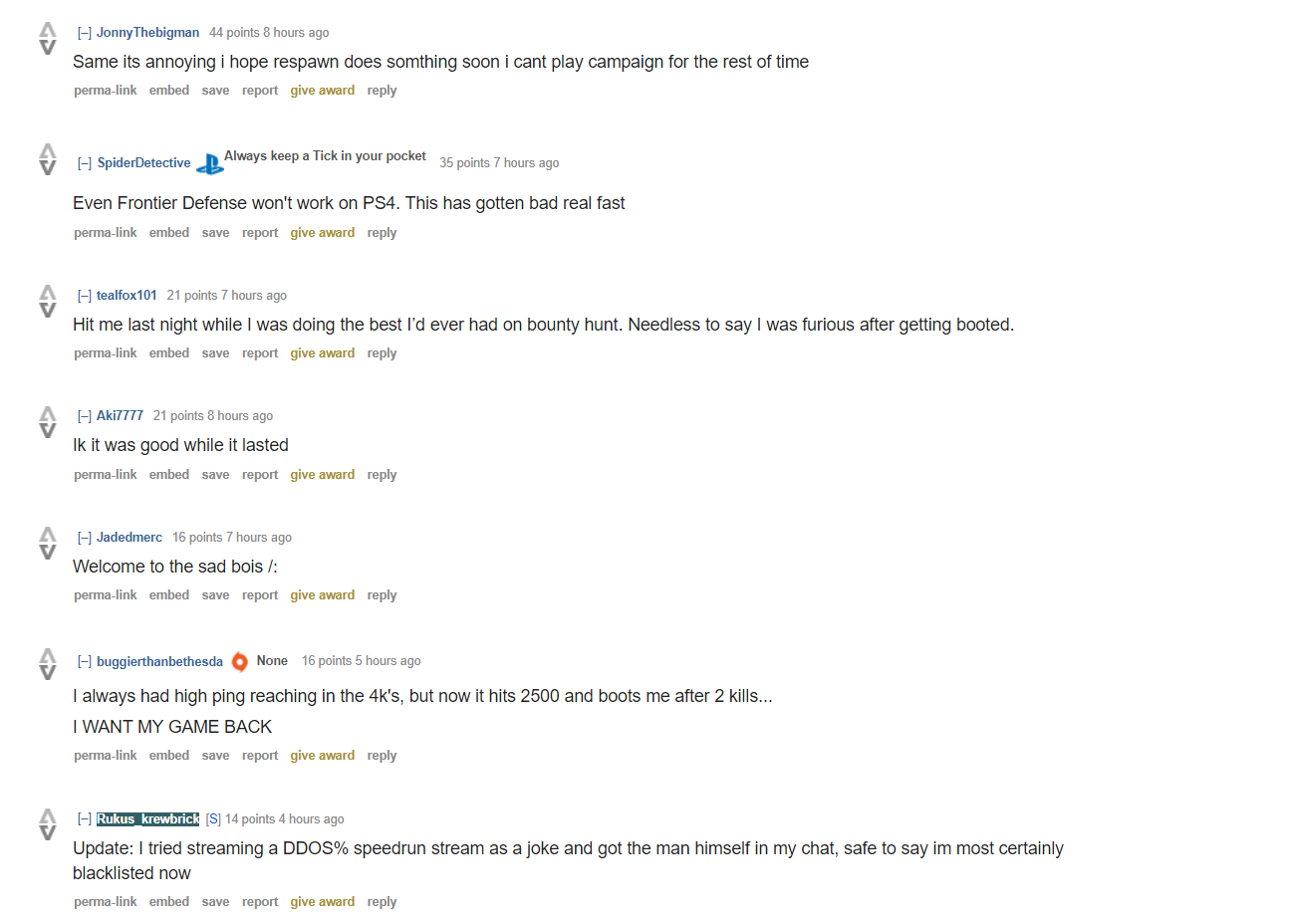 In addition to posts on Reddit, people have also vented on Twitter regarding the DDoS (distributed denial of service) attacks, matchmaking issues and more:
Really sad to see Titanfall DDoSing getting even worse today, with Titanfall 2 on PlayStation getting completely ruined.

One of the best FPS games ever, destroyed by people with nothing better to do. pic.twitter.com/wHnQRaK19m

— Apex Legends News (@alphaINTEL) July 7, 2021
Nothing hurts more than watching your favorite game die rapidly because of ddos attacks #Titanfall2

— Sticks (@StickyPilot) July 7, 2021
On travels for work, and this time I decided to bring my #PS4. Ever since the launch of #Titanfall2 I have not played any other FPS. @Respawn this is a hot mess. If y'all ready to let the TF community die, then just say so. We all know that y'all care about #ApexLegends more. pic.twitter.com/WuHN5Ggy2E

— JDauntless 🇿🇦 (@jdauntless85) July 7, 2021
#titanfall #Titanfall2 @Respawn @ea The hackers want you to fix the first Titanfall to work on PC from the information that I gather.
Ps4 community has been kicked from servers till fix can happen. Please help fix the Titanfall game. Thanks.

— Brad Kazarian (@StarscreamF15E) July 7, 2021
They deserve this for releasing broken games and not informing people about the problem, or even fixing the issues. They are even releasing the game on steam, still just as broken. @EA has earned this treatment. #Titanfall #Titanfall2

— Fire Fox 18+ (@FireFox2590) July 7, 2021
While Respawn Entertainment has acknowledged the Apex Legends server issues a few days ago, there hasn't been a statement regarding today's Titanfall 2 outage.
If Titanfall 2 is working (or down) for you, let us know where you're located and platform down in the comments. Hopefully, this gets resolved soon. We'll be updating the post as more news surfaces.
Don't forget, there's a digital panel tomorrow where DICE and Respawn will be taking the stage to talk about the "Future of First-Person Shooters." Maybe they'll touch on the issues regarding Apex Legends' and TItanfall 2's server woes there.