Bluepoint Games' highly anticipated remake of Demon's Souls is out this November for the PS5, and the game, as expected, has earned an "M" for Mature rating from the ESRB! Check out the full Demon's Souls PS5 ESRB rating and summary below, where it goes into detail on what kind of violence players can expect from the action title.
Demon's Souls PS5 ESRB Rating: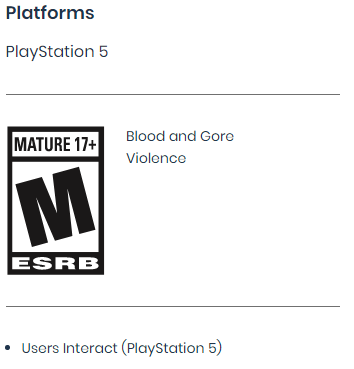 Rating Summary
This is an action role-playing game in which players attempt to save a medieval kingdom from a demonic curse. From a third-person perspective, players explore ruins, castles, and caverns while battling fantasy creatures (e.g., demonic creatures, dragons) in frenetic melee/ranged combat. Players use swords, spears, arrows, and magic to kill enemies; some weapons allow players to perform finishing moves that depict impaling and/or stabbing, with occasional slow-motion effects. Combat is accompanied by cries of pain and large blood- splatter effects. One sequence depicts animal corpses strewn around a cave, with visible entrails. Cutscenes also depict violence and blood: a ghoul impaled by a falling gate; a demon impaled by a lance.
In other Demon's Souls news, evidence is mounting that the remake is also going to be released on the PS4, though Sony has not confirmed it just yet. Check out gameplay of it right here to see how amazing it's turning out so far.