There's a 24-hour EVE Online sale being held right now. Through October 31, there's 25% off all Omega packages. The sale ends at 11 a.m. UTC on November 1.
This includes the one, three six and twelve month packages for Omega game time.
You can find the UK prices below: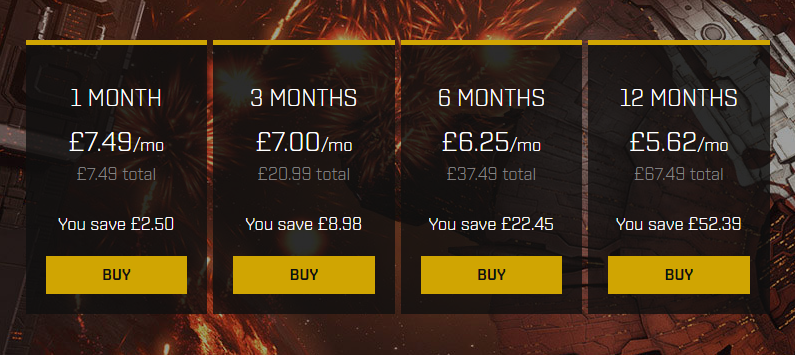 CCP Games has also announced a new Skin for the Macharial.
In addition to this, we're happy to announce that the animated Angel Cartel Hex SKIN for the Macharial is also now available in the New Eden Store!
This is priced at 695 PLEX, and is available in the store as of downtime today, and will be available for the foreseeable future with no time limit on availability!
There's also a new player offer running. Joining then logging into EVE Online before November 25 will make you eligible for a "free Blood Raider Beret."
Participate in the Resource Wars – after finishing the recommended in-game tutorial – and complete a level 1 site with the help of other players before 25 Nov to become eligible for a bundle of free apparel. This will allow you to complete the Blood Raider look! You will also receive 50% off a one month upgrade to Omega Clone State.
Will you be purchasing an Omega package? Let us know.
In other news, Call of Duty: WWII's first DLC has been detailed and dated, both RuneScape and RuneScape Old School have received Halloween updates and events, and Far Cry 5 got a dedicated co-op trailer that showcases all of the chaos that you and a friend can cause.
Source: Eve (Official)